Lotte Lehmann & Her Legacy: Volume 3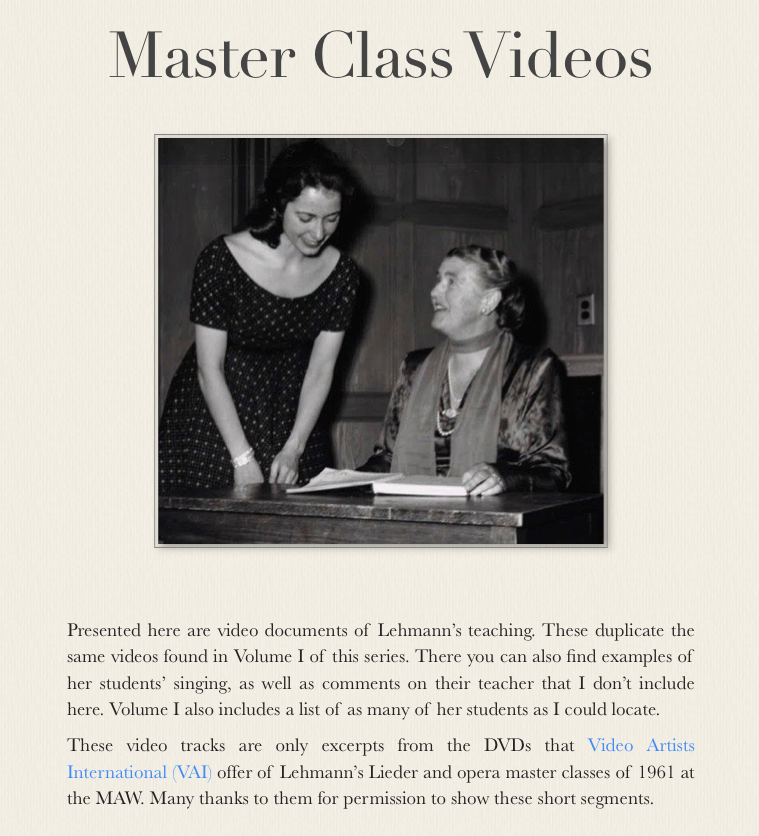 In the following video excerpt, Lehmann reveals the secret to her great success in both Lieder and opera singing. There are great artists who don't necessarily subscribe to this philosophy, but Lehmann obviously did and she's suggesting to her students that they should consider the same principle.
Without singing a note, Lehmann demonstrates how the singer can respond to a piano introduction. Notice that the hands don't hang limply down at the side of the body and you sense that she is hearing the importance of every note. But really, there isn't much motion at all. The singer listens to the piano and reacts naturally.
The mysterious and pleading quality that Lehmann suggests are found in the words of one of Goethe's most famous lyrics, "Kennst du das Land." Here are the words she quotes, in English translation:

Do you know the land where the lemon trees blossom? Among dark leaves the golden oranges glow. A gentle breeze from blue skies drifts. The myrtle is still, and the laurel stands high. Do you know it well?
Lehmann discusses the involvement of the whole body when singing but cautions against extraneous or meaningless motion. I have witnessed Lehmann demanding of a student the most sensitive response to the words, psychological subtext, and complete engagement from the eyes to the feet.
Classical singers often think that the smooth singing they seek can be obtained by connecting the notes with a slide. Here Lehmann observes that this habit makes a song sound sentimental and must be avoided. In the past, many singers, including Lehmann, used this portamento effect in their performances, weakening their presentation.
This demonstration of a Brahms song allows us to hear and see just what made Lehmann so appealing in her recital performances. Each phrase of Ludwig Uhland's poem elicits a reaction from her, whether vocal or physical, and this response doesn't cease when she's finished singing the words.