Lotte Lehmann & Her Legacy: Volume 5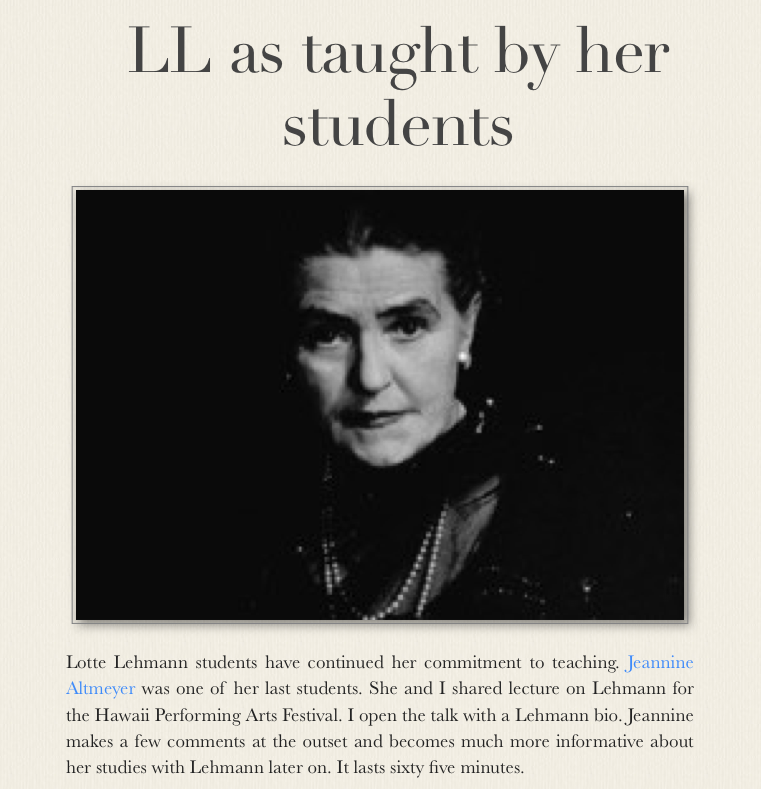 Of the other notable Lehmann students, as of this writing (summer 2022), Carol Neblett has passed away, having taught at Chapman College, Los Angeles; Benita Valente teaches at Temple University, Philadelphia and gives master classes; Mildred Miller has retired from the Carnegie Mellon University Music Department; Marcella Reale has passed, having taught privately in Japan most of her life (after her singing career. Evangeline Noël Glass taught, along with her late husband Beaumont, for many years in Europe and the U.S. She's retired now.

Katsuumi Niwa has passed, after years of university teaching in Japan. Luba Tcheresky taught privately until 2015 in New York City. Lesley Guinn taught for years at University of Michigan School of Music, Ann Arbor. Grace Bumbry has given many world wide master classes, some of which can be seen on YouTube, but she's retired. Karan Armstrong (recently passed), Thomas Moser, and Maria Zahlten-Hall have taught over the years for the Lotte Lehmann Woche in Perleberg, Germany. Marilyn Horne offered master classes at the MAW, until a few years ago.
The salient aspects of Lehmann's teaching have been absorbed by her students and taught. Many of these former Lehmann students have told me that the essence of her instruction was to understand the role in connection with the other roles. What are their motivations? How can each singer respond best to the whole situation and not just sing an aria. And when a singer isn't singing, how should he/she walk, stand, sit, or physically react to what the others are singing about?