Lotte Lehmann & Her Legacy: Volume 4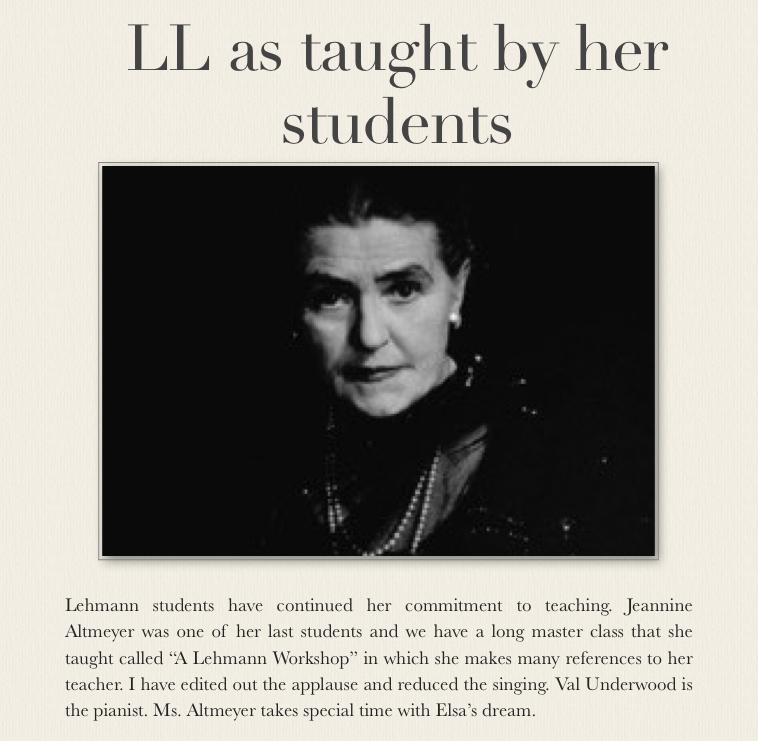 One of Lehmann's other successful students was Lois Townsand (later Lois Alba). In Volume 3 she spoke of her art song studies with Lehmann. Here, she discusses, in a 2016 recording, her memories of learning the role of the Marschallin from Lehmann.
Marcella Reale studied with Lehmann in the 1950s, went on to a successful opera career in Italy, and retired to teach in Japan where she was active until a few years ago. During a phone conversation in 2017 she told me that signal aspects of Lehmann's instruction have consistently informed her teaching. The attention to the word, whether in a song or an opera aria is paramount. Another seminal Lehmann focus that has importance in both genres for her is the background or subtext of the word that should be considered. This exactly the element that Marni Nixon included in this short Lehmann tribute.
Lehmann student Grace Bumbry is still teaching master classes and she echoed the thoughts of Marcella and Marni in the following statement. Other former students who are still teaching include Mildred Miller, Carol Neblett, Benita Valente, and Marilyn Horne. They have told me that they consistently remember Lehmann's instruction and can't help but include it in their teaching.