Lehmann coached, taught, directed and "master-classed" a huge number of singers. She was always proud of her students and their accomplishments. In every interview she managed to include some of their names.
Long before Lehmann taught at the Music Academy of the West she coached singers including: Jane Birkhead (hear her NPR Interview on Lehmann), Eleanor Steber, Risë Stevens, Rose Bampton, Nan Merriman, Dorothy Maynor, Anne Brown, (the original Bess in Porgy and Bess), Jeannette MacDonald, among many others.
During Lehmann's MAW years, and privately thereafter, star students included Jeannine Altmeyer, Karan Armstrong, Judith Beckmann, Grace Bumbry, William Cochran, Kay Griffel, Marilyn Horne, Lotfi Mansouri, Mildred Miller, Norman Mittelmann, Carol Neblett, Maralin Niska, William Olvis, and Benita Valente.
Famous singers who coached with Lehmann or were in her master classes include: Marni Nixon, Hermann Prey, Gérard Souzay, Hilde Güden, Janet Baker, Thomas Moser, Rita Streich, Raimund Herincx, Glenda Maurice, Alberto Remedios, and others.
And remember that Lehmann was a director/adviser of the 1962 Rosenkavalier for the Met, when she coached the famous cast of females that included Régine Crespin, Anneliese Rothenberger, and the reluctant Hertha Toepper.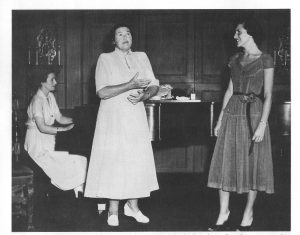 Koldovsky accompanies for a masterclass
Lehmann's Students (click to see a huge list!)