Lehmann's RolesLehmann's Opera Roles (scroll down to see the Lieder and other concert repertoire)
A close reading of the following list can provide a kind of mini Lehmann biography: small roles at the beginning of her career, the rather precipitous growth to larger, more demanding characters as well as the many roles in forgotten operas which every opera house must try out. If you want a day by day chronicle then check out the Chronology.
This list below doesn't always show the number of performances of each role (except in Vienna) or how the roles were assumed in other houses, especially in the US. It also overlooks the roles which she prepared but never performed in their entirety, for instance, Isolde. Isolated arias such as "Ozean, du Ungeheuer" from Weber's Oberon; "Reich mir die Hand mein Leben" (La ci darem la mano) (Zerlina's duet with Don Giovanni) and others which she recorded but never performed on stage, are not represented on this list. You can find isolated arias mixed in with the Lieder below the Opera list.
Lehmann's fame mistakenly often rests on a few Wagner and Strauss roles. This stereotype does great injustice to the breadth of interpretations she essayed. The total number of roles performed on stage is an incredible 93. And the total number of performances 1,613! This last number was gleaned from the appendices of Alan Jefferson's Lehmann biography.
Lehmann's final opera appearance was with the San Francisco Opera in Los Angeles as the Marschallin in 1946.
The first performance of each role is listed in chronological order by composer, by the season (20/21 means the season of 1920-1921) and the city: Hamburg (H), Vienna (V), London (L), Dresden (D). At this point only a total for the roles Lehmann sang in Vienna (but this is work in progress); that is appended to the end of the entry as: (Vienna___). Lehmann's Vienna Opera appearances were central to her career, but who could guess which role she sang most frequently there. Not the Marschallin (47) or Fidelio (35), but Manon (60!). Manon 1924
Compiled by André Tubeuf with help from me.
d'Albert: Tiefland: Pepa, 12/13 H (Hamburg 3); Marta, 20/21 V (Hamburg & Vienna 3); Die Toten Augen: Myrtocle, 15/16 H (Hamburg 13+7 as guest) also with the Prague Opera and Charlottenburg Berlin.
Beethoven: Fidelio: Leonore, 26/27 V; (Vienna 35) (other performances in Salzburg, Hamburg [as guest], Berlin, Paris [with the Vienna Opera on tour], Stockholm [with the Vienna Opera on tour], Antwerp, & London) for a grand total of 82!
Bittner: Der Musikant: Friederike, 18/19 V; (Vienna 6); Die Kohlhaymmerin: Helene, 21/21 V; (Vienna 2).
Bizet: Carmen: Micaela, 11/12 H; (Hamburg 29); (Vienna 17).
Blech: Versiegelt: Else, 12/13 H; (Hamburg 3).
Brandt-Buys: Die Schneider von Schonau: Veronika, 16/17 V; (Vienna 4).
Branfels: Don Gil: Juana, 24/25 V; (Vienna 3).
Cornelius: Der Barbier von Bagdad: Margiana, 14/15 H; (Hamburg 5); (Vienna 10).
Giordano: André Chenier: Maddalena (Madeleine), 25/26 V; (Vienna 16)
Gluck: Orphée ed Eurydice: Eurydice, 11/12 H; (Hamburg 3) Iphigenie en Aulide: Iphigenie, 13/14 H (Hamburg 3).
Goetz: Der Widerspenstigen Zähmung: Katherine, 27/28 V; (Vienna 3); Lehmann sang Katherine's famous aria many times in concerts and recitals all over the world.
Goldmark: Das Heimchen am Herd: May, 11/12 H; (Hamburg 4).
Gounod: Faust: Marguerite, 16/17 V; (Vienna 24) also guest performances in Breslau, etc.
Halevy: La Juive/Die Jüdin: Rachel/Recha, 15/16 H (Hamburg 5+1 as guest) (Vienna 14)
Heuberger: Opernball: Angele, 14/15 H; (Hamburg 10); (Vienna 3).
Humperdinck: Hansel und Gretel: Sandmännchen, 10/11 H; (Hamburg 9); Taumännchen, 11/12 H (Hamburg 1).
Kaiser: Theodor Körner: Christine, 14/15 H; (Hamburg 5).
Kienzl: Der Evangelimann: Martha, 12/13 H; (Hamburg 17); Der Kuhreigen: Blanchefleur, 21/22 V (Vienna 3).
Korngold: Der Ring des Polycrates: Laura, 18/19 V; (Vienna 2); Die Tote Stadt: Marietta/Marie, 24/25 V; (Vienna 3), Berlin, etc.; Das Wunder der Heliane: Heliane, 27/28 V; (Vienna 7, also Hamburg 2, as guest).
Mascagni: Cavalleria Rusticana: Lola, 10/11 H (Hamburg 2).
Massenet: Manon: Manon, 16/17 V; (Vienna 60); Werther: Charlotte, 17/18 V; (Vienna 16).
Meyerbeer: Le Prophete: Choirboy, 10/11 H (Hamburg 7).
Mozart: Die Zauberflöte: Second Boy, 10/11 H; First Boy, 11/12 H; Pamina, 13/14 H; (Hamburg 9); (Vienna 20); Cosi fan tutte: Dorabella, 12/13 H (Hamburg 9), Covent Garden, etc.; Marriage of Figaro: Countess, 13/14 H; (Hamburg 16) (Vienna 6), Covent Garden, etc.; Lehmann also sang arias of Cherubino in concerts; Don Giovanni: Elvira, 26 L; (London 3).
Nicolai: Die Lustigen Weiber von Windsor: Anna, 10/11 H; Frau Fluth, 16/17 V; (Vienna 9).
Offenbach: Fortunios Lied: Max, 10/11 H; (Hamburg 5); Hoffmanns Erzählungen: Antonia, 12/13 H, (Hamburg 21) (Vienna 15); Giolietta, 16/17 V, (Vienna 1); Orpheus in the Underworld: Eurydice, 13/14 H, (Hamburg 12).
Pfitzner: Palestrina: Silla, 18/19 V; (Vienna 6).
Puccini: La bohème: Mimi, 19/20 V; (Vienna 37); also Hamburg [as guest], Berlin, Dresden); Madama Butterfly: Butterfly, 20/21 V; (Vienna 24) (also Hamburg [as guest], Berlin, Prague, San Francisco); Suor Angelica: Angelica, 20/21 V; (Vienna 13); Tosca: Tosca, 22/23 V; (Vienna 15; Hamburg [as guest]; San Francisco; Metropolitan); Manon Lescaut: Manon, 23/24 V; (Vienna 7); Turandot: Turandot, 26/27 V; (Vienna 12), also Berlin 3 or 4, Breslau, Hamburg [as guest] 2); Il Tabarro: Giorgetta, 31/32 V; (Vienna 4).
J. Strauss Jr.: Der Zigeunerbaron: Irma, 10/11 H (Hamburg 4); Die Fledermaus: Orlovsky, 14/15 H, (Hamburg 8); Rosalinde, 30 L (London 7); (Vienna 1).
R. Strauss: Der Rosenkavalier: Sophie, 10/11 H (Hamburg 19) (London 2) (Leipzig 1); Octavian, 14/15 H (Hamburg 14); (Vienna 12); Marschallin, 24 L (London 24); (Vienna 47) (Salzburg 18) and Hamburg as guest, Paris, Berlin, Philadelphia, Cleveland, Chicago, San Francisco 9, and the Metropolitan 34; Ariadne auf Naxos: Echo, 12/13 H (Hamburg 8); (This was the opera in its first version); Komponist, 16/17 V, (Vienna 38); Ariadne, 22/23 V; (Vienna 25); Die Frau ohne Schatten: Färberin, 19/20 V; (Vienna 11); Intermezzo: Christine, 24 D (Dresden 4); (Vienna 14); Arabella: Arabella, 33/34 V; (Vienna 5).
Tchaikovsky: Queen of Spades: Lisa, 18/19 V; (Vienna 14), Berlin etc.; Eugen Onegin: Tatiana, 33/34 V; (Vienna 11); (many times in Berlin).
Thomas: Mignon: Mignon, 16/17 V; (Vienna 18).
Verdi: Otello: Desdemona, 22/23 V; (Vienna 16) (also in London 3, Dresden, Berlin, and Budapest).
Wagner: Tannhäuser: Second Page, 10/11 H; First Page, 10/11 H; Shepherd, 12/13 H; Elisabeth, 14/15 H (Hamburg 5), (Vienna 40); Das Rheingold: Freia, 10/11 H (Hamburg 20); (Vienna 3); Wellgunde, 12/13 H (Hamburg 6); (Vienna 1); Die Meistersinger: Apprentice, 10/11 H; Eva, 13/14 H (Hamburg 12); (Vienna 54); Lohengrin: First Squire, 10/11 H; Elsa, 12/13 H (Hamburg 28); (Vienna 39); Rienzi: 2nd Messenger of Peace, 11/12 H; Irene, 12/13 H; Die Walküre: Ortlinde, 12/13 H; Gertlinde, 12/13 H; Sieglinde, 13/14 H (Hamburg 8); (Vienna 32); Parsifal: 4th Flower Maiden, 13/14 H; 5th Flower Maiden, 14/15 H; (Vienna 7); Götterdämmerung: Gutrune, 13/14 H (Hamburg 13); (Vienna 8) (also on tour in South America); 3rd Norn, 13/14 H; Wellgunde, 16/17 H.
Weber: Der Freischütz: First Bridesmaid, 10/11 H; Agathe, 11/12 H (Hamburg 32); (Vienna 18); Oberon: Meermädchen, 12/13 H (Hamburg 6); Lehmann sang the aria "Ozean, du Ungeheuer" as a concert piece throughout her career.
Weingartner: Kain und Abel: Ada, 14/15 H.
Wolf-Ferrari: Jewels of the Madonna: Second Girl, 11/12 H; Stella, 12/13 H.
Zaiczek-Blankenau: Ferdinand und Luise: Luise, 17/18 V; (Vienna 6).
Lehmann's Song Repertoire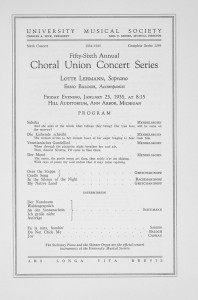 You can hear her famous interpretation of Winterreise which was her favorite song cycle.

Here are the songs that Lehmann sang, as well as arias that she used in concerts.
Alfano
Aria from Risurrezione
Queen Marie Antoinette
C'est mon ami
Arne
Not known which Arne songs she sang
Bachelet
Chère Nuit
Ernö Balogh (Lehmann's pianist)
Do Not Chide Me
Wem gilt der Gesang
Wo ich heut' gewesen
Marion Bauer
Only of Thee and Me (an English version of "Solo de ti y de mi")
Solo de ti y de mi
Bayly
Long, Long Ago
Beethoven
Adelaide
Andenken (Ich denke dein)
An die ferne Geliebte (cycle)
Der Kuss
Der treuer Johnnie (Folk Song)
Die Trommel gerühret
Die ehre Gottes an der Natur
Fidelio: Abscheulicher and Komm' Hoffnung and O namenlose Freude (duet) in concert performances
Freudvoll und Leidvoll
In Questa Tomba Oscura
Mit einem gemalten Bande
Neue Liebe, neues Leben
Sehnsucht
Wonne der Wehmut
Zärtliche Liebe (Ich liebe Dich)
Benatzky
Ich muß wieder einmal in Grinzing sein
Berger
Ach wer das doch könnte
Frühling ist es wieder
Bergerettes
Bergère légère
Il était un bergère
Nanette
Philis, plus avare que tendre
Venez, agréable printemps
Berlin
God Bless America
Berlioz
Absence
Es war ein König in Thule: Damnation of Faust
L'île inconnue
Bizet
Carmen: duet in concert performance
Blech
Heimkehr vom Feste
Bohm
's Zuschau'n
Still wie die Nacht (also in English)
Boito
Mefistofele: Siehe, ein bleichen Morgenlicht
Brahms
Abendregen
Ach, wende diesen Blick
Alte Liebe
Am Sonntagmorgen
An die Nachtigall
An eine Aeolsharfe
An ein Veilchen
Auf dem Kirchhofe
Auf dem See
Auf der Heide weht der Wind
Bei dir sind meine Gendanken
Bescheidene Liebe
Bitteres zu sagen denkst du
Botschaft
Cradle Song (in English)
Dämmerung senkte sich von oben
Das Mädchen spricht
Da unten im Tale
Dein blaues Auge
Der Gang zum Liebsten
Der Jäger
Der Kranz
Der Kuss
Der Salamander
Der Schmied
Der Tod, das ist die kühle Nacht
Die Kränze
Die Mainacht
Die Nachtigall
Die Schalle der Vergessenheit
Dämmerung senkte sich
Ein Sonett
Ein Wanderer
Erinnerung
Erlaube mir fein's Mädchen
Es hing der Reif
Es liebt sich so lieblich im Lenze
Es träumte mir
Feinsliebchen, du sollst….
Feldeinsamkeit
Frühlingslied
Frühlingstrost
Geheimnis
Gute Nacht
Hier, wo sich die Strassen scheiden
Immer leiser wird mein Schlummer
Komm' bald
Lerchengesang
Liebestreu
Magyarisch
Meerfahrt
Mein Mädel hat einen Rosenmund
Meine Liebe ist grün
Minnelied
Mondenschein
Nachtigall
Nachtigallen schwingen
Nachtklang
Nachtwandler
Nachwirkung
Nicht mehr zu dir
O komme holde Sommernacht
O liebliche Wangen
O wüsst' ich doch den Weg zurück
Regenlied
Ruhe Süssliebchen
Salamander
Salome
Sandmännchen
Sapphische Ode
Schwesterlein
Schön war, dass ich dir weihte
Sehnsucht
Serenade
Sommerabend
Sonntag
Spanisches Lied
Steig' auf, geliebter Schatten
Ständchen: Der Mond steht…
Therese
Trennung
Unbewegte, laue Luft
Vergebliches Ständchen
Versunken
Von ewiger Liebe
Vorschnellner Schwur
Wenn du mir zuweilen lächelst
Wenn um den Holunder der Abendwind kost (Junge Lieder II)
Wie Frühlingsblumen weht es
Wie Melodien zieht es mir
Wie bist du, meine Königin
Wie die Wolke noch der Sonne
Wie froh und frisch
Wiegenlied
Willst du, dass ich geh'
Wir wandelten
Zigeunerlieder (cycle)
Bransen
Love's Melody
Cadman
Joy
Carpenter
The Sleep That Flits on Baby's Eyes
When I Bring to You Colored Toys
Gustave Charpentier
Louise: Depuis le jour (as Seit diesem Tage)
Charles
When I Have Sung My Songs to You
Chausson
Le temps des Lilas
Les papillons
Nocturne
Chopin
Der Ring
Litausisches Lied
Chorales
Ach bleib mit deiner Gnade
Aus tiefer Not
Christi Mutter stand mit Schmerzen
Ein feste Burg ist unser Gott
Es blüht der Blumen eine
Herbei o ihr Gläubigen
Geleite durch die Welle
Ich bete an die Macht der Liebe
Jesus, meine Zuversicht
O Haupt voll Blut und Wunden
O heil'ger Geist, kehr bei uns ein
Wir glauben all' an einen Gott
Christmas Music
Adeste Fidelis
Es ist ein Ros' entsprungen
Good King Wenceslas
O du fröhliche
The First Noel
Silent Night
Cimara
Canto di Primavera
Clifton
If Music Be the Food of Love
Cornelius
Aus dem hohen Lied
Brautlieder (cycle)
Du und ich (duet)
Ein Ton
Erwachen
Vorabend
Wiegenlied
Cowler
Es gibt eine Frau, die dich niemals vergißt
H. H. Cunn or Cummins
Lie There, My Lute
Reposa ahi, laúd mio (a Spanish translation of "Lie There, My Lute")
D'Albert
Die toten Augen: Psyche wandelt; Amor und Psyche (in concert)
Debussy
Beau soir
Colloque sentimental
Green
La chevelure
La flûte de Pan
La mort des amants
Le tombeau des Naïades
Mandoline
Romance
Dell' Acqua
La vierge à la crèche
Duparc
Extase
Le manoire de Rosamonde
La vie antérieure
L'invitation au voyage
Phydilé
Rencontre
Sérénade Florentine
Eulenburg
Monatsrose
Rankende Rose
Seerose
Weiße und rote Rose
Wilde Rose
Fauré
Après un rêve
Rencontre
Seth Felt
To Electra
Ferrari
Le Miroir
Flotow
Arias in concert
Franz
Aus meinen grossen Scherzen
Die Heide ist grün
Dies und das
Ein Friedhof
Er ist gekommen
Für Musik
Gute Nacht
Im Herbst
Im Rhein, in heiligen Strome
Marie
Ständchen
Weißt du noch
Giuseppi Giordani
Caro mio ben
Giordano
André Chenier: aria and duet in concert performance
Gluck
Alceste: Dieux de la nuit éternelle, also Divinités du Styx
O del mio dolce ardor
Godard
Jocelyn: Berceuse
Goetz (Götz)
Der Widerspenstigen Zähmung: Arie der Katharina (frequently performed in concerts)
Gounod
Ave Maria (on Bach's music)
Faust: Duet on the concert stage
Vierge d'Athène
Gretchaninoff
Cradle Song
Folksong
My Native Land
Over the Steppe
Grieg
Auf dem Kahn (Im Kahne)
Ein Schwan
Ich liebe Dich
Letztes Frühling
Hageman
At the Well
Do Not Go My Love
Fear Not the Night
Music I Heard with You
The Cunning Little Thing
The Night Has a Thousand Eyes
Handel
Rinaldo: Lascia ch'io pianga
Xerxes: Largo: Ombra mai fu
Hahn
À nos morts ignorés
Dernier voeu
D'une prison
La nuit
L'énamourée
Le rossignol des Lilas
Le printemps
L'heure exquise
L'incrédule
Lydé
Offrande
Paysage
Pholoë
Phyllis
Si me vers avaient des ailes
Hamilton-Harty
The Scythe Song
Haydn
She Never Told Her Love
Hildach
Der Lenz
Der Spielmann
Hinton
Cradle Song
Hummel
Halleluja
Humperdinck
Die Lerche
William James
Bush Song at Dawn
Covent Garden
Haunted Garden
Hail Magic Power (to the words of Lotte Lehmann)
Cyril Jenkins
As the Moon's Soft Splendor
Music, When Soft Voices Die
Jensen
Blütenwind
Lehn deine Wang' an meine Wang'
Murmelndes Lüftchen
O laß dich halten, gold'ne Stunde
Ketèlbey
Andachtsstunde
Heiligtum des Herzens
Wilhelm Kienzl
Gute Nacht, ihr Freunde
Maria auf dem Berge
Die verschwiegene Nachtigall
So lang du mich entbehren kannst
Venus mater
Korngold
Die tote Stadt: aria in concert performance
Das Wunder der Heliane: aria in concert performance
Lehar
The Merry Wives: aria in concert performance
Leopoldi
Wien, du sterbend Märchenstadt
Liszt
Es muss ein Wunderbares sein
Lorelei
Mignons Lied
Mahler
Das irdische Leben
Erinnerung
Ich bin der Welt abhanden gekommen
Ich ging mit Lust durch einen grünen Wald
Liebst du um Schönheit
Lob des hohen Verstandes
Serenade
Symphony No. 4
Um Mitternacht
Rückertlieder
Wo die schönen Trompeten blassen
Martini
Plaisir d'amour
Josef Marx
Der bescheidene Schäfer
Der Ton
Hat dich die Liebe berührt
Selige Nacht
Und gestern hat er mir Rosen gebracht
Massenet
Hérodeade: Il est doux, il est bon (in concert)
Manon: Gavotte (in concert) (also in English as Listen to the voice of youth)
May
Der Duft, der eine schöne Frau begleitet
Mendelssohn
Auf Flügeln des Gesanges (also in English as On Wings of Song)
Bei der Wiege
Der Mond
Die Liebende schreibt
Entsagung
Es weisst und rät es doch keiner
Frage
Gruß
Lieblingsplätzchen
Morgengruß
Neue Liebe
Pagenlied
Schilflied
Suleika
Venetianisches Gondellied
Meyer-Helmund
Das Zauberlied
Molloy
The Kerry Dance
Monro (also Munro)
My Lovely Celia
Monteverdi
Lasciatemi morire
Frank Moser (only sung on one occasion in 1919)
Bei einem Springbrunnen
Bitte
Die Einsame
Geistergruss
Liebestrunken
Nacht
Mozart
Abendempfindung
Als Luise die Briefe…
An Chloe
Dans un bois solitaire
Das Veilchen
Die Verschweigung
Don Giovanni: La ci darem/Reich mir die Hand (as duet in concerts)
Magic Flute: Duet of Pamina and Papageno (on concert programs)
Marriage of Figaro: Heil'ge Quelle (Porgi amor); O säume länger nicht (Deh vieni); Ihr, die ihr triebe (Voi che sapete)
Sehnsucht nach dem Frühlinge
Warnung
Wiegenlied (Schlafe mein Prinzchen), (actually by Flies)
Müller
Oh Love of God Most Full
Mussorgsky
Songs and Dances of Death (complete and selections) (in German and in English)
Nicolai
The Merry Wives of Windsor: Nun eilt herbei (on concerts)
Paladilhe
Psyché
Perrari
Le Miroir
Pfitzner
Gretel
Puccini
La bohème: Mimi's aria (in concert performance)
Madame Butterfly: Un bel di; Butterfly/Pinkerton duet (in concert performance)
Tosca: duet (in concert performance); Vissi d'arte (in Italian and German for concerts)
Purcell
Dido: When I Am Laid in Earth
There Is Not a Swain
Quilter
I Arise From Dreams of Thee
Love's Philosophy
Now Sleeps the Crimson Petal
Rachmaninoff
In the Silence of the Night
Ralton
Eine kleine Liebelei
Ravel
Nicolette
Reger
Marias Wiegenlied
Virgin's Slumber Song (in English)
Waldeinsamkeit
Roessel
Wo du hingehst
Rogers
Star
Rosen
Wenn du einmal dein Herz…
Rubinstein
Es blinkt der Thau, also as: The Dew is Sparkling
Romance
Sadero
Fa la nana
Schubert
Am Meer
Am Grabe Anselmos
Am See
An den Mond (both Hölty and Goethe versions)
An die Leier
An die Musik
An die Nachtigall
An eine Quelle
An mein Klavier
An Sylvia
Auf dem Wasser zu singen
Auflösung
Ave Maria
Das Fischermädchen
Das Mädchen
Das Rosenband
Dass sie hier gewesen
Dein ist mein Hertz
Der Doppelgänger
Der Erlkönig
Der Fischer
Der Jüngling an der Quelle
Der Jüngling und der Tod
Der Kreuzzug
Der Musensohn
Der Tod und das Mädchen
Der Wanderer
Der Wanderer an den Mond
Die Allmacht
Die Forelle
Die junge Nonne
Die Liebende schreibt
Die Männer sind méchant
Die junge Nonne (also in the orchestrated version)
Die Rose
Die schöne Müllerin (cycle) (she often sang excerpts)
Die Stadt
Die Taubenpost
Die Unterscheidung
Du bist die Ruh'
Emma
Fischerweise
Frühlingssehnsucht
Ganymed
Geheimes
Gott im Frühlinge
Gretchen am Spinnrade
Hark, Hark! the Lark (in English shortly after the war)
Heimliches Lieben
Hin und Wieder…
Im Abendrot
Im Frühling
Im Herbst
Lachen und Weinen
Liebesbotschaft
Liebeslauschen
Litenei auf das Fest Allerseelen
Mignon
Mit dem grünen Lautenbande
Nachtgesang
Nacht und Träume
Nähe des Geliebten
Nur wer die Sehnsucht kennt
Rastlose Liebe
Rosamunde
Schäfers Klagelied
Schlummerlied
Schwanengesang (not the cycle)
Sei mir gegrüsst
Seligkeit
So lasst mich scheinen (Lied der Mignon)
Ständchen (Leise flehen…) (also in English)
Suleikas Gesang
Suleika II
Um Mitternacht
Wanderers Nachtlied
Was ist Sylvia? (also in English)
Wiegenlied (Schlafe, schlafe holder…)
Winterreise (cycle) (she also sang excerpts from this cycle)
Schumann
Abendlied
Aufträge
Alte Laute
An den Sonnenschein
Aufträge
Aus den hebräischen Gesängen
Aus den östlichen Rosen
Belsatzar
Botschaft
Brautlieder I and II
Dein Angesicht
Der Hidalgo
Der Himmel hat eine Träne geweint
Der Nussbaum
Der Zeisig
Der arme Peter (3 songs)
Dichterliebe (cycle)
Die Blume der Ergebung
Die Kartenlegerin
Die Lotosblume
Die Meerfee
Die Soldatenbraut
Du bist wie eine Blume
Erstes Grün
Frauenliebe und -Leben (cycle)
Frühlingsnacht
Geisternähe
Glühwürmchen
Heiss mich nicht reden
Hochländisches Wiegenlied
Ich denke dein
Ich wandelte unter den Bäumen
Ihre Stimme
Im Westen
In der Fremde
Jemand
Kommt dir manchmal in den Sinn
Leis' rudern hier
Liebesbotschaft
Lieb' Liebchen, legt's Händchen
Lied der Braut
Lied der Mignon
Lied der Suleika
Liederkreis Opus 39 (song cycle). This includes songs performed separately: In der Fremde, Waldesgespräch, Frühlingsnacht, etc.
Marienwürmchen
Mein Wagen rollet langsam
Meine Rose
Meine Töne still und heiter
Mit Myrten und Rosen
Mondnacht
Nur ein lächelnder Blick
O ihr Herren
O Sonnenschein
Provincialisches Lied
Romanze
Rose, Meer, und Sonne
Röselein
Schöne Fremde
Schöne Wiege meiner Leiden
Serenade
Singet nicht in Trauertöne
Sitz' ich allein
Soldatenbraut
So wahr die Sonne scheinet
Talismane
Träumerei (as vocalise in Big City movie)
Duets: Unter'm Fenster, Ich denke Dein, Er und Sie, Liebhabers Ständchen, ? Familien gemälde, So wahr die Sonne scheinet
Volksliedchen (Wenn ich früh in den Garten geh')
Waldesgespräch
Was soll ich sagen
Wenn durch die Piazzetta
Wer machte dich so krank?
Widmung (also in English as "Dedication")
Zwei Lieder der Braut
Zwei venetianische Lieder
Zwielicht
Scott
Blackbird's Song
Sibelius
Hundert Wege
Sieczynski
Wien du Stadt meiner Träume
Sjøberg
Visions (Tonerna)
Stolz
Im Prater blüh'n wieder die Bäume
J. Strauss Jr.
Der Zigeunerbaron: Wer uns getraut (in concert)
Heut' macht die Welt Sonntag für mich (arr. Dostal)
R. Strauss
Allerseelen
All mein Gedanken
Ariadne auf Naxos: Es gibt ein Reich (in concert)
Barcarolle
Befreit
Cäcilie
Das Geheimnis
Dein blaues Auge
Der Rosenkavalier (excerpts for concert)
Die Georgine
Die Nacht
Du meines Herzens Krönelein
Freundliche Vision
Geduld
Georgine
Gesang der Apollopriesterin
Heimliche Aufforderung
Ich trage meine Minne
Im Spätboot
Kling
Meinem Kinde
Mit deinen blauen Augen
Morgen!
Ruhe, meine Seele
Salome (excerpt for concert)
Schlechtes Wetter
Seitdem dein Aug' in meines schaute
Ständchen
Traum durch die Dämmerung
Von dunklem Schleier umsponnen
Wiegenlied
Wie sollten wir geheim sie halten
Wozu noch, Mädchen
Die Zeitlose
Zueignung
Tchaikovsky
Eugen Onegin: Letter aria (in German in concert)
Nur wer die Sehnsucht kennt (also in English as None but the Lonely Heart)
Ambrois Thomas
Mignon: Kennst du das Land, also in English: Knowest Thou the Land, also as Connais tu le pays
Thompson
Velvet Shoes
Torelli
Tu lo sai
Traditional
American National Anthem (Oh, Say Can You See…)
Charming Chloe (words of Burns)
Come Let's Be Merry
Drink to Me Only with Thine Eyes
Have You Seen but a White Lily Grow?
I Know Where I'm Goin'
John Anderson
Londonderry Air
Oh Whistle and I'll Come to Thee
The Last Rose of Summer
The Plague of Love
The Sweet Little Girl that I Love
Thine Is My Heart
Woulds't Thou Behold
Wagner
Die Walküre: Du bist der Lenz (in concert)
Lohengrin: Elsas Traum; Du Ärmste kannst wohl nie ermessen; ? Wedding Scene, (duet); all in concerts
Tannhäuser: Dich teure Halle; Elisabeth's Prayer (both sung in concerts)
Tristan und Isolde: Liebestod (sung in concerts)
Wesendonck Lieder (complete or one or more)
Weingartner
An den Schmerz (a cycle dedicated to Lehmann)
Weckerlin (arranger)
William
Summer Night
Maman, dites-moi
Wolf
Ach, des Knaben Augen
Als ich auf dem Euphrat schiffte
Anakreons Grab
An die Geliebte
An eine Aeolsharfe
Auch kleine Dinge
Auf dem grünen Balcon
Auf ein altes Bild
Auf einer Wanderung
Begegnung
Benedeit die sel'ge Mutter
Bescheidene Liebe
Bit' ihm o Mutter
Blumengruss
Das verlassene Mägdlein
Das Vöglein
Das doch gemalt all' deine Reize wären
Dass doch gemalt
Das verlassene Mägdlein
Denk' es o Seele
Der Freund
Der Genesene an die Hoffnung
Der Gärtner
Der Knabe und das Immlein
Der Mond hat eine schwerer Klag…
Der Schäfer
Die Bekehrte
Die Nacht
Die Spröde
Dies zu deuten
Du denks mit einem Fädchen
Elfenlied
Er ist's
Frage und Antwort
Frühling übers Jahr
Fussreise
Gebet
Geh', Geliebter, geh' jetzt
Gesang Weylas
Goldfäden
Heb' auf dein blondes Haupt
Heimweh
Heut' Nacht erhob ich
Im Frühling
In dem Schatten meiner Locken
In der Frühe
In hab' in Penna
Lied vom Winde
Mein Liebster singt
Mignon (Kennst du das Land)
Mir ward's gesagt
Mitternacht
Mögen alle bösen Zungen
Morgenstimmung
Morgentau
Nachtzauber
Nein, junger Herr
Nimmersatte Liebe
Nun lass uns Frieden schliessen
Nun wandre Maria
Peregrina I
Schlafendes Jesuskind
Schwieg einmal still
Storchenbotschaft
Sterb' ich, so hüllt in Blumen meine Glieder
Tretet ein, hoher Krieger
Träume
Über Nacht
Um Mitternacht
Und willst du deinen Liebsten sterben sehen
Verborgenheit
Verschwiegene Liebe
Waldmädchen
Wenn du, mein Liebster steigst zum Himmel auf
Wer rief dich denn?
Wer sein holdes Lieb verloren
Wer tat deinem Füsslein weh?
Wiegenlied im Sommer
Wie glänzt der helle Mond,
Wie lange schon
Zitronenfalter in April
Zur Ruh', zur Ruh'
Amy Worth
Midsummer
The Little Betrothed
The Little God in the Garden
Ernst Wunderlich
Gute Nacht
A Sampling of Some Special Seasons:
In 1946 and 1947 Lehmann sang the following songs in recital throughout the United States. The songs are in alphabetical order by composer. There are many non-German songs, which one expects so soon after the war.
Bergerettes: Venez, agréable printemps; Bergère légère; Philis, plus avare que tendre; Nanette; Il était un bergère
Folk Songs: Come Let's Be Merry; John Anderson; I Know Where I'm Goin'; O Whistle and I'll Come to Thee
Bachelet: Chère Nuit
Brahms: Bescheidene Liebe; Sehnsucht; Sommerabend; Mondenschein;? Vorschneller Schwur; Alte Liebe; Wie Melodien zieht es mir; ? An ein Veilchen
Chausson: Les Papillons
Clifton: If Music Be the Food of Love
Debussy: La Chevelure; La flûte de Pan; Le tombeau des Naïades; Beau Soir; Mandoline; Green; Romance
Hahn: Paysage
Martini: Plaisir d'amour
Mendelssohn: Suleika
Perrari: Le Miroir
Schubert: Das Fischermädchen; Im Frühling; Schwanengesang
Schumann: Die Soldatenbraut; Der Zeisig
Strauss: Ruhe, meine Seele; Meinem Kinde; Im Spätboot; Befreit; Die Georgine; Von dunklem Schleier umsponnen; Heimliche Aufforderung
Torelli: Tu lo sai
Wolf: Auf einer Wanderung; Dass doch gemalt; Wiegenlied im Sommer; ? Nimmersatte Liebe; Elfenlied;  Fussreise; Begegnung; Blumengruss; Mögen alle bösen Zungen; Der Schäfer; Nun wandre, Maria; ? Das verlassene Mägdlein; Sterb' ich so hüllt; Denk' es o Seele
Lehmann listed in her repertoire booklet but didn't sing: Alban Berg's Im Zimmer and Die Nachtigall.
In 1948 and 1949 Lehmann included:
Brahms: Minnelied; Nicht mehr zu dir zu gehen; Salome
Chausson: Nocturne
Duparc: Le Manoir de Rosamonde; Sérénade Florentine
Hahn: Dernier voeu
Mendelssohn: Suleika
Schubert: An den Mond; Der Wanderer an den Mond; Die Unterscheidung; Gott im Frühlinge; Nachtgesang; Schäfers Klagelied
Wolf: Der Hidalgo; Ich wandelte unter den Bäumen
Schumann: Romanze; Er ist's
Strauss: Die Bekehrte; Die Spröde
Schubert Repertoire
Here are the Schubert songs that Lehmann sang (in the chronological order that she added them to her repertoire.)
Schubert: Die junge Nonne; Nacht und Träume; (1918); Ständchen; Der Tod und das Mädchen; Litanei; Ave Maria; An die Musik (1929); Nachtgesang; Du bist die Ruh'; Der Doppelgänger; (1929); Erlkönig; Ganymed, Geheimes; Auf dem Wasser…; Rastlose Liebe; Die Allmacht; (1930); Am Grabe Anselmos, Der Kreuzzug, Der Jüngling und der Tod; Faut-il en vain médire; An Sylvia; Mignon; Wiegenlied; Der Wegweiser; (1931); Frühlingsglaube; An die Leier; Im Abendrot; An eine Quelle; An die Laute; amour sans trève; Barcarole (1933); Der Lindenbaum; Im Herbst; Ungeduld; Heimliches Lieben; Schwanengesang; (1934); Romance from Rosemunde; Die Stadt; Das Rosenband; (1935); Gretchen am Spinnrade; Nähe des Geliebten; Auflösung; (1936); Dein ist mein Hertz; (1937); Liebesbotschaft; And die Nachtigall; (1939); Nur wer die Sehnsucht kennt; Winterreise; (1940); Die schöne Müllerin; Das Fischermädchen; An den Mond; Lachen und Weinen; (1942); Suleikas Gesang; Die Forelle (1943); Der Wanderer; Mit dem grünen Lautenbande; (1944); O lasst mich scheinen; Fischerweise; Der Jüngling an der Quelle; Sei mir gegrüsst; Am Meer; Schlummerlied; Suleika II; Im Frühling; Die Männer sind mechant; (1945); Hark, hark! the Lark; Dass sie hier gewesen; (1946); An Grabe Anselmos; An den Mond; Der Fischer; (1947); Schäfers Klagelied; Das Echo; Emma; An den Mond (Goethe poetry); Der Musensohn; Lachen und Weinen; Wiegenlied; Die Unterscheidung; Um Mitternacht; Die Rose; Frühlingssehnsucht (1948); Gott im Frühling; An mein Klavier; Die Liebende schreibt; Am See; Das Mädchen; Hin und wieder (1949); Liebeslauschen; Seligkeit; (1951)