The award alternates among art song composers, singers, and collaborative pianists. It serves to raise public consciousness of art song and to honor those who have devoted their creative lives to this enriching form of music. The Lotte Lehmann Foundation presented the "World of Song Award," consisting of a beautifully framed document designed by noted calligrapher Denis Lund, to a deserving art song performer or composer. When the Foundation went into hiatus, the award was discontinued.
Now in 2013 the Lotte Lehmann League renews the award. It has been offered to Kammersängerin Christa Ludwig and accepted. It is now finished, and you can view a copy of it here.
Recipients:
2001 Dalton Baldwin

Dalton Baldwin has accompanied the greatest art song performers of our time. His legendary years as Gérard Souzay's pianist are well documented in recordings. Mr. Baldwin has also accompanied Elly Ameling, Jessye Norman, and the late Arleen Auger. Presently teaching at Westminster Choir College in Princeton, New Jersey, Mr. Baldwin finds time to travel around the world teaching art song master classes. He knew Lehmann personally and visited Lehmann's home in Santa Barbara, California, with Souzay. On 19 December 2001 Mr. Baldwin celebrated his 70th birthday with a grand, musical party in New York City. The Lotte Lehmann Foundation presented him with its first annual World of Song Award.
The Lotte Lehmann Foundation Presents
The World of Song Award to Dalton Baldwin
In honor of his 70th Birthday
This 19th day of December 2001 for
• Selfless support to the Lehmann Foundation as an Advisor for
• A life-time of distinguished performance as collaborative pianist
• Education of singers and pianists And for
• Gentle kindness as a friend
Signed Gary Hickling, President, Lotte Lehmann Foundation
2002 Hugues Cuénod
In celebration of his one hundredth birthday, the Lotte Lehmann Foundation awarded Hugues Cuénod the World of Song Award for 2002. Hugues Cuénod, tenor, is a singer who has sung everything, from Machaut to Stravinsky. An outstanding sight-reader, with a flair for the unusual, Cuénod has left a discographic heritage of the first order. Especially noted for his recordings of mélodie, Bach and Elisabethan song, his performing career continued until his mid-90s.
He was born in 1902 and holds the record as the oldest person to make a debut at the Metropolitan Opera, singing the Emperor there in Turandot in 1987.
In an interview in 1997, 95-year-old Swiss Cuénod talked to pianist Graham Johnson, recalling prewar Vienna and Paris, where he frequented aristocratic salons and worked with Nadia Boulanger. After the war, the new early-music boom relied heavily on his light, unmannered, natural sound, and Cuénod made several pioneering LPs — his 1950 recording of Couperin's Lamentations prompted Stravinsky to ask him to sing in the premiere of The Rake's Progress. Opera has been a constant thread, but at the heart of Cuénod's repertoire is French song — he knew and worked with Honegger, Auric, Roussel, Poulenc, and others.
Though he didn't know Mme. Lehmann personally, he has written letters to the Foundation recalling specific performances that he enjoyed both in Vienna and Paris in the 1930s. In interviews with Gary Hickling, he also spoke of his hearing Lehmann both in opera and Lieder. Mike Richter writes the following: Anyone familiar with French opera must know of Hugues Cuénod, the great, Swiss-born leggiero tenor of the Opéra. Like his successor, Michel Sächal (25 years younger), Cuenod's career extended far beyond the comprimario rôles of opera. He was also noted in concert, singing exquisitely in English, German and Italian as well as in his native French. His style is unquestionably French and his voice has the characteristic softness and fluidity of that land's most lyric instruments….Despite the delicacy of Cuénod's production, he was easily heard even in the most demanding venues and was a mainstay at Glyndebourne in over 470 performances. Of course, he did have the advantage of sixty-year career to amass such a total.
2003 Ned Rorem
In 2003, on his 80th birthday, the Award was presented to the Pulitzer Prize-winning American composer, author and collaborative pianist, Ned Rorem. The man who Time Magazine called "the world's best composer of art songs," possesses a special genius for prosody and melodic beauty.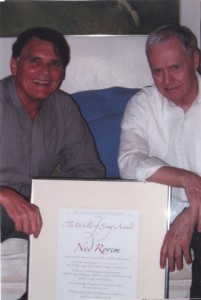 2004 Graham Johnson
The Lotte Lehmann Foundation presented its 2004 World of Song Award to collaborative pianist and scholar Graham Johnson. The inscription reads:
IN RECOGNITION of your years devoted to the highest standards as a collaborative pianist in recitals, radio, television and on recordings; for developing new recital formats used in the "Songmaker's Almanac."
IN APPRECIATION of your achievement as producer and pianist of the "Complete Songs of Schubert" and the "Complete Songs of Schumann" recordings and to applaud your unique scholarly and detailed liner notes for all your recordings.
TO HONOR your service as a teacher and master clinician and to acknowledge your excellent resource book on mélodie "The French Song Companion."
WITH GRATITUDE for your participation as Advisor for the Lotte Lehmann Foundation
Upon receipt of the honor, Mr. Johnson wrote to Daron Hagen, then Lehmann Foundation President: "When you promised me an inscribed document I had no idea that I would be the recipient of such a thing of beauty. From the bottom of my heart I thank you for the honour of the award, for producing something which so painstakingly (and accurately) reflects my biography and life, and for the sheer aesthetic pleasure of the vellum original. I am indeed privileged to join the small group of people who have received this award. My grateful thanks to you, Mr.Hickling and other board members who made this decision."
After arriving in Britain from his native Rhodesia (now Zimbabwe), Graham Johnson studied at London's Royal Academy of Music and subsequently with the late Geoffrey Parsons. In 1972 he was official accompanist at Peter Pears' first masterclasses at The Maltings, Snape, and thereafter worked regularly with the great tenor. In 1975 he was invited by Walter Legge to accompany Elizabeth Schwarzkopf.
In 1976 he formed The Songmakers' Almanac to further the cause of neglected areas of piano-accompanied vocal music and to place the staple repertoire of song in new and challenging contexts. This endeavour was much supported by the late Gerald Moore, whose guiding influence in Johnson's career was of crucial importance. Apart from devising and accompanying over one hundred and fifty Songmakers' recitals, Graham Johnson has presented a number of summer recital cycles for London's South Bank and Wigmore Hall, as well as a seven-part cycle of Goethe settings for the Alte Oper, Frankfurt. He has written and presented programmes for both BBC Radio and Television on the songs of Schubert, Poulenc, Liszt, and Shostakovich.
He is Professor of Accompaniment at London's Guildhall School of Music, and a Fellow of that School as well as of the Royal Academy of Music. He has given masterclasses as far afield as Finland, New Zealand, and the Music Academy of the West in Santa Barbara, California.
Graham's project to record the entire Schubert Lieder for Hyperion continues to attract critical acclaim, including the 'Gramophone' Solo Vocal Award in both 1989 (for his disc with Dame Janet Baker) and 1996 (for Die schöne Müllerin with Ian Bostridge).
He has also recorded the entire Lieder of Schumann. The first disc in this series, with Christine Schäfer, won the 1997 'Gramophone' Solo Vocal Award. Graham Johnson was awarded an OBE in the 1994 Queen's Birthday Honours list.
2005 Dietrich Fischer-Dieskau
Eminent baritone Dietrich Fischer-Dieskau accepted the Award on the occasion of his 80th birthday on 28 May 2005. It read:
For the intelligence, poetic sensibility, command of nuance, beautiful voice and musical artistry that you brought to the art of Lieder singing;
To honor your willingness to explore all aspects of the Lieder repertoire, including contemporary song, and to re-record your vital interpretations of the standard works;
In acknowledgement of your 45 year singing career which brought the joy of Lieder to the world;
In appreciation of your teaching, master classes, books, conducting and reciting; With gratitude for all of your inspiring work,
And in honor of your Eightieth Birthday, This twenty eighth day of May 2005.

In his thank you he wrote: "What a wonderful surprise! Thank you so much for a joy to my 80th birthday. This is a great honor!! I often think of the wonderful Lotte Lehmann and therefore am especially greatful… Yours ever, [signed] Dietrich Fischer-Dieskau." The note card on which he wrote this reply includes one of his own landscape drawings "signed" in the lower right hand corner. 
2006 Dominick Argento
In acknowledging the 2006 prize, Pulitzer Prize-winning American composer Dominick Argento wrote: "I am highly honored and grateful to have been selected as the 2006 recipient of the Lotte Lehmann Foundation's World of Song Award. To have one's name even distantly linked with Lotte Lehmann is a great satisfaction in itself. To realize that the selection was made by one's most esteemed colleagues greatly increases that satisfaction." Click here to view the award.
2007 John Wustman
John Wustman, the distinguished American collaborative pianist and educator, was chosen by the Board of Directors of the Lotte Lehmann Foundation as recipient of its annual 2007 World of Song Award. Click here to view the award.
Lindsey Christiansen, then a member of the Foundation's board of directors who sponsored Wustman's nomination, offered this comment: "The numbers of singers, pianists and audience members for whom John Wustman has ignited the love affair with German lieder is legion. My encounter with his passionate and exacting love of this repertoire changed my life forever."
Daron Hagen, then president of the Lehmann Foundation, summed up the feelings of the entire board of directors: "The loyalty with which John Wustman has served this noble art have been matched by very few and the fervor of his commitment is unparalleled. In so many ways he has been a trailblazer in his field, and elevated the role of the accompanist to an equal partner with the singer. The Lehmann Foundation is thrilled to recognize him for a lifetime of song."
Daniel Gundlach, then chairman of the World of Song committee, recognized Wustman's contribution thus: "John Wustman has influenced generations of pianists and singers. His dedication to art song, in particular the works of Wolf and Schubert, has been unwavering. I am proud to be one such student whose musical life was enriched by his example and I am proud that he is being celebrated by the Lehmann Foundation for his immeasurable contribution to the world of song."
Upon finding that he was to receive the award, Wustman himself said: "With my heart full of love and gratitude I accept the World of Song award from the Lotte Lehmann Foundation. We go along very happily and content and then such a surprise as to find that I am receiving this great honor. There are good things in this life."
The citation (see illustration at left) consists of a beautifully framed document designed by noted calligrapher Denis Lund.
2008 Janet Baker
Janet Baker, the distinguished English mezzo-soprano was selected by the Board of Directors of the Lotte Lehmann Foundation as the seventh recipient of its annual World of Song Award.
Daniel Gundlach, then chairman of the World of Song Award committee, stated, "Throughout her career, Janet Baker gave wholly of her artistic self in the service of music. We are particularly privileged to acknowledge her, given her lifelong dedication to art song. On a personal note, it affords me great pleasure to offer this award to a singer whose work I have revered for many years."
Linn Maxwell, then president of the Lotte Lehmann Foundation, speaking for the entire board of the Lotte Lehmann Foundation, said, "I am thrilled to be able to honor a singer whose artistry has touched so many lives. Dame Janet Baker has made a lasting impact on musicians and audiences worldwide. We are pleased to announce her gracious acceptance of the 2007 World of Song Award."
Lindsey Christensen, then a board member of the LLF, praised the awardee's contribution to art song thus: "For singers and teachers in my generation Janet Baker was the embodiment of the singer in service to the music. The beauty and humility of her performances inspired countless singers to dedicate their lives to song."
Gary Hickling, founder and past president of the Lotte Lehmann Foundation stated, "Janet Baker's beautiful, recognizable sound, the clear diction as well as intense involvement with the words and the overall meaning of the poem, the logical, technically masterful and musical way she dealt with each phrase, all are deeply satisfying. But there was another dimension that always sets her song performances above the huge field of excellent singers, past and present, and that was her palpable joy in what she was singing."
Upon learning of the tribute, Dame Janet responded, "I am honoured indeed to be a recipient of the Award. In 1957 I was… invited to take part in master classes which Lotte Lehmann gave in the Wigmore Hall… I was heard by the Director of the most prestigious agency in the country… who became my representatives as a result… Lotte Lehmann was therefore responsible for giving me a marvelous chance at a very important moment and I was always grateful to her, not just for that but for her comments and wisdom; her name was revered by all of us and her presence was unforgettable… I am proud and delighted to think that, once again and after so many years, I am associated with her name in such a delightful way and I cannot adequately express my feelings of gratitude to the Board for a mark of respect which I appreciate so deeply."
2009 – 2012   The Lotte Lehmann Foundation in hiatus: no awards
Under the auspices of the Lotte Lehmann League, the World of Song Award was presented to Kammersängerin Christa Ludwig. You can view the original document here.
The Lotte Lehmann League Presents
The World of Song Award
To Christa Ludwig
For your commitment to Lieder singing throughout a career of major accomplishments on the opera stage;
For the immense breadth of opera roles assumed during your long devotion to the stage;
For your beauty of voice, keen limning of the characters, and acting flair;
For your equally extensive song repertoire developed over a lifetime of dedication to Lieder;
For the performances you gave throughout your life of oratorios and cantatas;
For the huge discography of the highest calibre that you recorded;
For the perpetuation of your art demonstrated through master classes,
This award celebrates your 85th year and your continuing commitment to music.
---