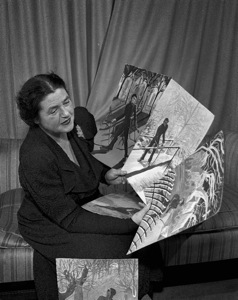 Lotte Lehmann was the first woman to perform and record the complete Winterreise of Schubert. The  recording was split between RCA and Columbia during 1940 and 1941, but Naxos has combined the two with acceptable results (but not complete, so Pearl is also needed). The pianist for the whole project was Paul Ulanowsky. But wait, as the commercials say, there's more! Lehmann was an artist and painted individual watercolors for each song. Lehmann had begun to perform excerpts from Winterreise as early as 1931, so the cycle was not new to her. Read Lehmann has to say about a woman singing "men's" songs, what author/critic Hilary Finch and Ira Hirschmann, who encouraged her to perform the cycle, have to say. This is what Lehmann says about it in her book, More Than Singing: "This cycle begins with the
last phase of an unhappy experience of love. The lover has come to realize the worthlessness of his beloved and knows at last that the love which was the greatest experience of his life, has been squandered on one who was incapable of appreciating the unique gift of true love and faith. The girl had playfully accepted her lover's pledge and then without any compunction had broken his heart. He struggles to escape from his devotion to her. He tries to leave the surroundings where he has been so deeply wounded and betrayed. The cycle–through twenty four songs–leads step by step to utter dissolution." In 1956 Lehmann recorded the Müller poetry of the cycle, and I provide that as well.
The following translations are based on those of Celia A. Sgroi.