Lotte Lehmann's Komm' Hoffnung
The way Lehmann sings this aria, recorded in the same year that she took on the role of Leonore/Fidelio, (1927, the centennial of Beethoven's death), offers one a sample of her histrionic talents, as well as her secure vocal range.
Here's a brief summary of the plot of Fidelio: Leonore dresses up like a man to infiltrate a prison where she believes her husband is held as a political prisoner. She works for the jailer and overhears the governor of the prison deciding to kill a secret prisoner, whom she fears is her husband. In this aria she's talking to herself about her plight, and then with great resolve knows that she will be successful, because she's driven by the love for her husband. At the bottom of this page I provide Lehmann's personal account of the role of Leonore.
There are some things to notice that are unique in Lehmann's performance of Komm' Hoffung: When Lehmann sings the word "liebe" (love), one hears love in the voice, and when she sings "du" (you), it is addressed to someone she loves. How sweetly she is able to color the "süssen Trost" (sweet comfort)! Her determination and courage can be heard in the way Lehmann enunciates with great precision: Ich folg' dem innern Triebe, ich wanke nicht (I follow the inner drive, I do not waver).
And for those who have read that Lehmann had trouble with high notes, listen not just to the high B at the end, but notice the low C earlier, to enjoy the thrill that only such a range of singing can offer.
Beethoven's Komm', Hoffnung from his Fidelio
Komm', Hoffnung, lass den letzten Stern
der Müden nicht erbleichen.
Erhell' mein Ziel, sei's noch so fern,
die Liebe, sie wird's erreichen.
Ich folg' dem innern Triebe,
ich wanke nicht,
mich stärkt die Pflicht
der treuen Gattenliebe.
O du, für den ich alles trug,
Könnt ich zur Stelle dringen,
wo Bosheit dich in Fesseln schlug,
und süssen Trost dir bringen!
Ich folg' dem innern Triebe,…
Come, hope, let not the last star
guiding the weary vanish from sight.
Light my goal, no matter how far away,
love, will reach it (the goal…husband)
I follow my inner drive,
I do not waver;
I'm strengthened by the duty (call)
of true married love.
O you, for whom I bear all,
could I just find the place
where evil has chained you,
and bring you sweet comfort!
I follow my inner drive,…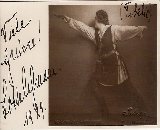 In My Many Lives she writes: "I found in [the role of Leonore] the most exalted moments of my opera career and was shaken by it to the depths of my being. The part of Leonore imposes greater dramatic problems than any other role: she must be convincing as a man, while she is actually the most feminine of women. It must be clear that it is only through her great love that Leonore is capable of enduring the torment of her disguise. One must picture Leonore as she was before tragedy threatened to destroy her life: she was the beloved wife of a man of high position in the political world. She was adored and honored. Then, through the clever intrigue of Pizarro, her husband was lured into a trap: he disappeared—she did not know where they had taken him. She has only known that he must be suffering in some prison and that his bitterest opponent in the political field, Pizarro, must be involved in his disappearance. But Leonore has not been contented to weep and complain in helplessness as would have been the average woman of her time. Where others would have given up in despair she acted. An evil plot has robbed her of her husband, a clever plot must bring him back to her—that is her decision. She suspects which prison it is in which he is languishing. She knows the ways of Pizarro, she knows that he would only have taken him to the place from which there would be the least possibility of escape. She knows of a dark dungeon which would seem to be the most secure—no one could escape from it. Victims of political enmity—political "criminals"—have been thrown into this prison. How many innocent beings have suffered in this grave of the living! To reach it is Leonore's goal. But how? A woman could never accomplish this, and even if she did succeed in doing so without being recognized she knows that she would never be admitted. So she must disguise herself as a man. Secretly she learns to walk as a man, to make movements which until now have been completely foreign to her nature. She must be convincing if she wants to succeed. And she must succeed for she must free her husband. She practices carrying herself like a man until her bearing becomes convincing and natural.She has the good fortune to be engaged as the helper of the prison master, Rocco. She has forged her way closer to her goal. But she has not found her husband among the prisoners to whom she must bring food. So, in her disguise, she serves here without really knowing whether her husband Florestan suffers within these dark walls. And now a distressing complication has arisen: Marzelline, Rocco's young daughter, has fallen head over heels in love with this handsome youth who seems so different from the young men whom she knows. Different from Jaquino, Rocco's helper, whose love until now had been quite welcome but now seems only a nuisance—for how could he compare with Fidelio's beauty?
Leonore—or rather "Fidelio," for this is the name under which she lives here in disguise—sees that Marzelline is a spoiled daughter and that her father, Rocco, would gladly do anything to make her happy. If Leonore should seem to reject Marzelline's none too subtle indications of love, Rocco might in the end tell Fidelio that he must leave in order to save his daughter from a broken heart. That must be avoided! She must win Rocco's confidence, his complete confidence. So she accepts Marzelline's advances and plays the lover. It hurts her to deceive these harmless and simple people who have been so kind to her. In moments of depression she hates herself for being able to do this. But the rescue of Florestan is everything to her. It is worth while to play an apparently unworthy role in order to achieve this goal.
The portrayer of Leonore must have a deep understanding of this whole situation and must know what she is feeling the moment she enters the stage. She is returning from a mission which has been a torture to her: she has had to fetch new chains from the blacksmith and knows that they may perhaps be placed about her husband—to make certain that he will never escape. She has suffered from this torturing thought and has also suffered physically from the weight of the chains, for never before has she carried so heavy a burden.
So she enters the door almost upon the point of collapse spiritually and physically.She is pale—there are deep shadows beneath her eyes. She leans for a moment against the frame of the door as if to gather strength. But her eyes search the faces of Rocco and Marzelline anxiously and questioningly: whenever she has been away she is fearful lest something might have betrayed her secret—she is always on guard, always anxious. But no—they both look at her with the same confidence as before….."[i]
All of that before Leonore has uttered a word. That is typical of the way in which Lotte imaginatively reconstructed the background and prehistory of the characters she portrayed—with so much sensitive psychological insight, as in the following passage:
"There are endless opportunities for subtle differentiations in acting Leonore: this very feminine woman must behave consciously as a man when she knows that she is under observation, but when she is alone she is feminine and soft. For example, the whole first part of the great aria (after the violently dramatic recitative at the beginning) should be sung with almost no movement—as if lost in prayer. Here she should be completely Leonore and not at all Fidelio. In the second part she is overwhelmed by the immensity of her task and is so completely under the spell of her desperate struggle that she becomes "Fidelio" from head to toe, even though she is alone. But she speaks of victory and success—and victory and success are dependent upon her own cleverness, her own skill in carrying out the plan which she has conceived: the excusable deception of these innocent people for the sake of her husband. With the fanfare of trumpets she again becomes the man who in her absorption had given place to the loving woman."[ii]
She sang the part for the first time on March 26, 1927, in a gala performance to celebrate the centennial of Beethoven's death. There was a cast of stars: Piccaver as Florestan, Alfred Jerger[iii] as Pizarro, Mayr as Rocco, Schumann as Marzelline. Lotte Lehmann reached new heights and set a new standard. Franz Schalk, who had guided her through the rehearsals and conducted the performance, wrote to a friend: "A great, overwhelming, radiant festival, and our Lotte Lehmann was its brilliant center."[iv] Anna Bahr-Mildenburg,[v] a great singer of the previous generation, was in the audience. Her impressions of that night have been preserved:[vi]After the great Leonore aria I was seized with terror: that was such a deeply human, thrilling scene, so natural and full of feeling, that I thought my pulse had stopped beating. Everything that the young singer had done before was as if swept away through this achievement, which will signify a landmark in Lehmann's career. Her accomplishment is grander and more human, more detailed and well thought out than that of the great Lilli Lehmann.[vii]
The critics searched for new superlatives: Lotte Lehmann was an experience as Leonore. That is a Fidelio of whom they will still be singing in the most distant future. That is perfection
….Lotte Lehmann, who in the last few years has risen to ever higher perfection, surpassed herself as Leonore, which she sang for the first time….
…Lotte Lehmann was simply glorious; more than that, hers was great singing and a moving womanly creation….
One can hardly imagine another performer of Leonore like Frau Lehmann. Perhaps she lacks heroic volume. But out of her words, whether spoken or sung, the tones sound as if they come from the depths of the feminine heart. So speaks and so sings the purest love, which is infinite in its joy of giving, only giving, and asks nothing, expects nothing in return. That tone, true to nature, unaffected, unadorned with any fancy "nuances," penetrates movingly to our hearts.
A reporter from Paris  wrote: Mme. Lotte Lehmann, who is the purest and most magnificent soprano of the Vienna Opera, absolutely surpassed herself, vocally and histrionically, in her dramatic rendition of Leonore. A delirious audience showered her with unending applause.
---
[ii]
  Ibid., pp. 123-124.
[iii]
  V. note 19, Introduction.
[iv]
  Schalk's words quoted in
Wessling I
, p. 125.
[v]
  Anna Bahr-Mildenburg, Aust. sop., b. Vienna 1872, d. Vienna 1947. Vienna Op. 1897-1916, 1919-21.
[vi]
Wessling I
, p. 125.
[vii]
  V. note 43, Chapter II.