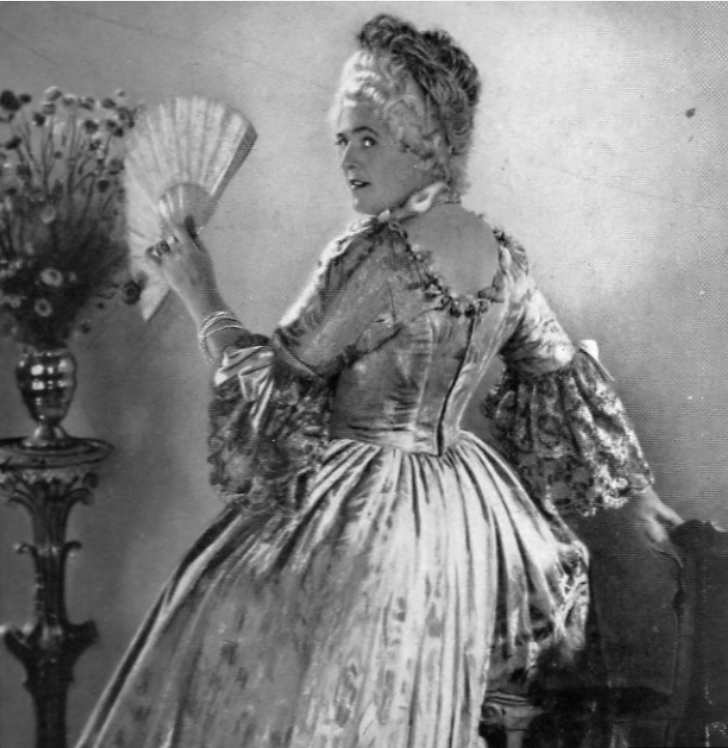 Herman Klein: Writing about a Rosenkavalier performance conducted by Beecham [at Covent Garden], Klein had complaints about several singers, but then wrote that Beecham "had an even finer Marschallin than Margaret Siems [who premiered the role!] in Lotte Lehmann. Comparisons may be futile in a sense, but to a certain extent they are unavoidable. Lotte Lehmann is one of those great artists who satisfy as completely whether seen and heard or heard only without being seen. She is an extraordinarily good actress; therefore in order to appreciate and enjoy her embodiment of the Marschallin in the fullest degree, one must see her in the part." [Klein remarks on other cast members and then writes]: "The real joy of the evening was the Marschallin. It will dwell in the memory as a classic."
Ernest Newman wrote of Lehmann's Marschallin: "an exquisite singer with a voice capable of the most delicate inflections, and an actress whose quiet ease is the perfection of the art that conceals art."
After her first performances as the Marschallin in London in 1924 the following reviews appeared: "…It is impossible to praise too highly the performance of Mme. Lotte Lehmann; she was every inch a princess—voice and gesture alike held a dignity that raised the tone of the whole thing…."(The Telegraph.)
"…Lotte Lehmann's princess moves one as one scarcely expects to be moved in opera…."
"…The outstanding performance of the evening was that of Mme. Lotte Lehmann as the Marschallin. Vocally and histrionically finished to the smallest detail, it had a nobility of style and a depth and variety of emotion that made it seem the only ideal rendering of the part one may wish to hear in a lifetime…."
For her 1927 Covent Garden performance as the Marschallin, the reviewer wrote: "…Her performances last year and again last week led us to expect great things. But, however well prepared, one does not come in contact with such most admirable art without feeling the thrill and the wonder as of a perfect thing. She sang not a phrase that was not as perfect as a good voice and an unerring taste could make it, and she spoke not a word that was not pronounced so as to carry the full weight and significance it was meant to carry. And how well her histrionic genius filled in those long silences….Such a performance cannot but have its effect on all who share in it…."
For her Marschallin in Graz: "…Among the guests, Frau Lotte Lehmann, who was appearing for the first time in Graz, was resplendent as the Marschallin. She portrayed with moving poetry the last glow of a noble woman's heart. Rococo magic blossomed around her figure. Every gesture, every tone testified to a wonderful mellowness and wisdom. The way in which Frau Lotte Lehmann spins her tones is incomparable. Her Feldmarschallin is one single song of beauty, free of 'effects,' and free of any attempt to "shine" in the conventional sense. It is not too much to say that through Lotte Lehmann art becomes ennobled."
For Lehmann performances in the Salzburg Festivals, they wrote: "…Glorious, unforgettable, transfigured in every respect is Frau Lotte Lehmann as the Marschallin. Highest effectiveness, noblest art."
Salzburg Summer Festival 1932: "…There is really only one Marschallin, and her name is Lotte Lehmann…."
Review of Lotte Lehmann's first Metropolitan Opera Marschallin by Olin Downes in The New York Times:
"Strauss had a character in the Princess, superbly limned by Hofmannsthal, the librettist, that appealed profoundly to him. He found precisely the right musical vein to express this character. It is melancholy without bathos, and noble without pose or self- consciousness. It has the cloak of worldliness and the ornate environment which affords the composer a chance for the decorative motives and the expert commentary of which Richard Strauss proves himself such a master. Everything is comprehended in his tonal portraiture of the Princess. The women characters in other operas of Strauss's are symbols rather than people. Elektra is the embodiment of destiny and a terrible passion. Chrysothemis is her foil. Salome is the peg upon which some magnificently fiery and sensuous music is hung. One reason why we can tolerate her is that as a woman she doesn't exist. Her reality is the passion and temperament of Strauss; she herself is as much an effigy as John the Baptist is a cardboard saint with a chorale theme as a leitmotiv.
"But the Princess is a woman; when she is characterized by a Lotte Lehmann she becomes the dominating and absorbing motive of a lyric drama in which the music makes us know, feel and suffer with her. Mme. Lehmann has long been famous for this characterization, which has everything – the lightness of touch, the manner and accent of the nobly born; the flaming embers of a last passion, the pathos and ache of renunciation. When the Princess took the chair proffered her in the last episode of the drama, seating herself as one to the purple born, and with the bitter knowledge of her years upon her, she knew and everyone who watched knew that for all purposes of the life of the heart she was an old woman.
"She was saying farewell to the one previous thing, which she was relinquishing to another. This emotion was not only in the face, but in the very folds of the dress and in the set of the head. It was in the musical phrase and the voice itself. As for the quality, from the standpoint of sheer tone, the voice sometimes became edged, for Mme. Lehmann, who had gallantly gone through with her engagement, was singing through a cold. The indisposition, however, was not of a nature to do more than modify quality here and there. But had the voice been in much worse condition, the meaning back of the tone, the communication of womanly sentiment, the fusing of high intelligence and sincerity, would have carried unmistakably to every listener. This character, the keynote of Strauss's comedy (which, like every great comedy, is touched with tears and with the knowledge of human need and human pain) was most eloquently, and with the utmost art, revealed to yesterday's audience."
In December 1934 Lehmann sang in Der Rosenkavalier for Philadelphia: "…I had heard Mme. Lehmann sing this enamoring role in Europe, but I had never known her to re-create it with so probing a comprehension, so sensitive and sure a touch, a truth of feeling and of utterance so steeped in the essence of the part…." (Lawrence Gilman, The New York Herald-Tribune, December 1, 1934)
"…So subtly projected was this great lady that for once the conventions of the theatre ceased to exist, and one felt oneself swept irresistibly into absolute identification with an alien soul. It would take a book to enumerate the details of this extraordinary impersonation, its inspired gestures, its perfection of movement, its uncanny vocal revelations, its pathos, nobility, and tenderness. But Miss Lehmann is to do the Marschallin at the Metropolitan this winter, so I shall say no more…for fear of having no adjectives left for that happy occasion…." (Samuel Chotzinoff, The New York Evening Post, December 3, 1934)
In 1937 Der Rosenkavalier return to the Met: Oscar Thompson for The Sun: "…Lotte Lehmann's Marschallin is a famous one, and not without reason. But when it was first disclosed at the Metropolitan three seasons ago it fell short of its full effectiveness, as experienced by those who had sat in the spell of her characterization in Vienna, Salzburg, or elsewhere abroad. As had been true earlier of the Baron Ochs of the lamented Richard Mayr, its detail did not entirely register in the extensive reaches of the house. Last night Mme. Lehmann's first act Marschallin was altogether charming for those seated fairly close to the stage. How it was further back is for someone else than this reviewer to say. The soprano was continent in the use of her voice and the music benefited thereby. The monologue was fashioned with just the right note of wistfulness. Elsewhere were phrases of haunting loveliness, as in the snatch of Lied, 'Du bist mein Bub, du bist mein Schatz,' ['you are my boy, you are my treasure'] soon after the parting of the curtain; and in the high-arched phrase, 'Da drin ist die silberne Ros'n' ['the silver rose is inside'], at the end of the act. This Marschallin was an aristocrat, a philosopher, and above all, a woman, which is precisely what the role requires…."
Here is an excerpt from Richard Capell's review in London's The Daily Telegraph of May 11, 1937: "…A supremely beautiful and affecting performance [was] given by Lotte Lehmann as the Marschallin. As if to make up for last week's disaster, [when she had to leave the stage because of feeling ill and Konetzni who was in the audience, finished the role] it seemed, she gave a finer subtlety and deeper tenderness than ever to a part which London operagoers of the last fifteen years must feel to be peculiarly and even exclusively hers. Word after familiar word in Rosenkavalier will be associated, while memory lasts, with Lotte Lehmann's characteristic enunciation, to say nothing of the charming woman and true princess she represents in her appearance."
Review of B. H. Haggin in the Brooklyn Eagle
Der Rosenkavalier" was given at the Metropolitan yesterday afternoon for the first time in five years or so, and provided an opportunity for New Yorkers to see and hear for themselves the celebrated Princess of Lotte Lehmann. The other principals were Maria Olszewska as Octavian, Editha Fleischer as Sophie, Emanuel List as Baron Ochs, and Gustav Schuetzendorf as Von Faninal. Artur Bodanzky conducted.
Mme. Lehmann's Princess, it turned out, was justly celebrated. It combined amused detachment with intensity of feeling, troubled wisdom with dignity and strength. In action it was built up by a wealth of subtle detail; and the subtlety of action had its counterpart in the dramatically expressive variety of coloring and inflection in the singing. A printed slip in the program informed the audience that Mme. Lehmann was suffering from a cold, but had graciously consented to sing nevertheless; but her singing had very little to apologize for. Only the utmost richness and fullness of which the voice normally is capable was missing.
Review of W.J. Henderson in The New York Sun
Richard Strauss's "Der Rosenkavalier" was brought forth yesterday afternoon at a special (benefit) matinee in the Metropolitan Opera House after a silence of five years. The performance as attended by a good sized audience which received the opera with applause, but without manifestations of rapture. The demeanor of the assembly could easily be accepted as due partly to the nature of the work itself and partly to the performance. There was no item which could be singled out as conspicuously deficient, yet the whole presentation lacked the romantic and humorous uplift necessary to create an illusion.
Lotte Lehmann's Marschallin was singularly cool and dispassionate. It was apparently well composed, but it missed its great points and failed to emphasize the gentle pathos of the woman's realization of the waning of her day of glory. Mme. Olszewska made a gallant figure of the infatuated young Octavian, but here again the interpretation skimmed pleasantly along the surface. The depths remained undisturbed. Even in the incident of the presentation of the rose the cavalier was little more than a handsome picture. With these two personages moving about the stage in dim outline of the characters little could be expected, though there were moments when both sang well in so far a technical finish and regard for style were concerned.
In January 1986 Risë Stevens reminisced: "I shall never forget her Evchen, her Fidelio with Toscanini. There was not anything with her that I missed. But Rosenkavalier was naturally the thing I was most excited about; that was, after all, my reason for being in Salzburg. As a student, I was allowed to watch rehearsals of the festival performances. It became a dream of mine one day to sing Octavian opposite Lehmann's Marschallin!
"After that summer, in Prague and elsewhere, I sang many performances of Der Rosenkavalier with many partners, with the Konetznis, with almost everyone who was singing the part in those days. But none of them fully existed for me; until I was able to sing with Lotte Lehmann I had not yet sung with the Marschallin herself."
When Lehmann gave a master class in London the actor (and author), Robert Speaight, wrote the following impressions under "Critics' Columns" in The Tablet of October 12, 1957: "…And now she has made herself into another kind of artist in order to pass on her own experience to the young singers of today. There has been no happier or more heroic fulfillment on the contemporary stage.
"The present series of public rehearsals let us into the secrets of her incomparable art and personality, and in doing so they take us into the heart of the music she has chosen to interpret. I was lucky enough to hear her in the first act of the Rosenkavalier—the two duets between the Marschallin and Octavian, and the great monologue. This last she went through for us in full, hardly singing but acting it all with such perfect expression that it was easy, from memory, to fill in the contour and the color of the voice. And it was wonderful to see how it was done, and why. At the end of the afternoon, there came one of the most electrifying moments I have ever experienced in theatre or concert-hall. She was demonstrating the ironic gaiety with which the Marschallin should bid Octavian goodbye [presumably just before the arrival of Baron Ochs]. Suddenly, from the rather dingy stage of the Wigmore Hall, a sound went up which did not come from either of the very promising pupils of the Opera School. In a second we realized what had happened: Mme. Lehmann had forgotten that she had no voice! The applause went on for about a minute while she brushed aside the moment of oblivion with a good-humored wave of the hand…."
Other critics of the London master classes wrote: "…It was fascinating and touching for those who had never seen her in the opera, for—leave the singing voice out as we must—she is an actress of the utmost brilliance and charm…. Merely to see the way—as the Marschallin—she chucks Sophie under the chin with her fan is worth going to see. She scattered her wit and instruction over a two-hour class, asked the young artists to regard her as a colleague and not 'as someone who stands on a pedestal.'…"(Percy Cater, The Daily Mail, September 24, 1957)
"Two young singers pallidly embraced each other on the Wigmore Hall stage last night. And a kindly, grey-haired woman watching them shook her head sadly and said: 'I have never yet seen young singers play a love scene right. I—an old woman—have to show them even how to kiss!' Lotte Lehmann did just that, with the emotion and fire of somebody fifty years her junior…. She showed them what color of voice to use…where to put their hands…how to sit and stand…how to glance…how the music guides every word and gesture. And as we watched, two youngsters came to life in front of our eyes. Best of all was the way Mme. Lehmann described the key character of the Marschallin—her own great role: 'She is a woman who must live with dignity, wisdom, courage, and kindliness.' For that is the only description of Lotte Lehmann herself…." (Noel Goodwin, The Daily Express)
TIME Feb 27, 1950
"One must take things lightly, holding and taking with a light heart and light hands—holding and letting go . . ."
These words of sage advice, sung to her mirror image by the aging Marschallin in Richard Strauss's Der Rosenkavalier, are largely ignored by grand-opera stars. But to 61-year-old German-born Soprano Lotte Lehmann, who for 25 years sang them with unsurpassed eloquence, they have long had the weight of dogma.
Although her last singing of the Marschallin at the Metropolitan in 1945 brought her a 20-minute ovation, she decided soon afterward that it was time to "let go." Two years ago she resolved to give up opera and operatic arias completely, sing only less strenuous lieder. She limited her concert tours to two months a year, spent the remaining ten months at her California home. When she wasn't singing, she painted watercolors, fired ceramics of her own design in her home kiln, worked on her fifth book, Of Heaven, Hell and Hollywood. [not published until 2019]
Last week Lotte Lehmann, in the East for recitals and her first one-man show of paintings, went back on her resolution. To honor her good friend Richard Strauss, who died last summer (TIME, Sept. 19), and to mark her 50th Manhattan recital in a decade, she decided to sing once more the first-act monologues from her most famous role, the Marschallin.
To Lehmann fans the performance in Manhattan's Town Hall had the air of a religious rite. They sat devout and mouse-quiet while the singer, dressed in sober black, her chestnut hair caught back in a plain bun, leaned gently against the curve of the piano. Without properties, costume or conspicuous gesture, Soprano Lehmann recreated the aging Viennese beauty with her old-time fire and finesse.
For a minute after she sang her final words of wistful resignation, the audience was silent, then burst into seat-rattling applause. At intermission Lehmann had said, her eyes shining: "Fifty concerts! Aren't you tired of me?" At recital's end, the audience answered with cries of "More! More!" They brought her back for three encores.
By week's end Lotte Lehmann had sung four sell-out recitals, closed her one-man painting show with most of her 63 paintings and ceramics sold. This week she was heading west for concert dates in Milwaukee and Chicago, then back home.
In his Legendary Voices, Nigel Douglas begins his chapter on Lehmann, "Back in the early 1950s, when I was reveling in my first opportunity to go fairly regularly to opera, it so happened that one piece which I saw several times was Der Rosenkavalier. When talking to older connoisseurs I soon learnt that there was no point in enthusing about whichever soprano happened to be the Marschallin of the evening. The response was always the same – a wistful look, a mildly condescending smile and 'Ah yes, but of course I heard Lotte Lehmann.' It has always seemed to me, who alas never did hear her, that there can be no more irrefutable proof of her qualities as a stage performer than this universal acceptance of the fact that she was the Marschallin.
"…[E]veryone who experienced Lehmann's Marschallin seems to have capitulated entirely to her dignity and charm. This was the role which the distinguished British critic Neville Cardus had in mind when he was asked who, in his opinion, were the three greatest actresses on the London stage, and named Lotte Lehmann alongside those two 'grandes dames' of classical drama, Edith Evans and Peggy Ashcroft. As Bruno Walter expressed it, Lehmann's Marschallin was 'one of the outstanding achievements on the contemporary operatic stage. Here, indeed, was that rare phenomenon of an artist's personality becoming wholly merged with a poetic figure, and of a transitory theatrical event being turned into an unforgetible experience.'
"To me it is Lehmann's acceptance that everything in her life will have to exist under the patina of social dignity which so characterizes her interpretation. It is as finite a form of resignation as the 'heut' oder morgen, oder den übernächsten Tag' (today, tomorrow, or the day after that') with which she so accurately charts the journey of Octavian's affections. In every monologue the detail is beautifully observed; when Baron Ochs hets his come-uppance (he is shamefully treated, I always think) the necessary imperiousness is hers to command; and in the final trio her 'Hab' mir's gelobt' is sung with a dignified and moving eloquence….
"Many singers, I know, will agree with me when I say that the approbation which means the most to us is that of our colleagues, and perhaps the ultimate accolade for Lehmann's Marschallin lay in Flagstad's reaction when she was asked if she would like to sing the role at the Met – 'I would love to, but after Lehmann – never!'"
J. B. Steane's book The Grand Tradition includes many references to Lehmann and specifically to her Marscahllin: "The heat generally rises quickly beneath opera-going collars when Marschallins are being discussed. Everybody has his favourite and it seems inconceivable that some people should actually prefer another. No doubt this is because the Marschallin is a character 'in the round', which is rare in opera, and also because her nature is warm, her predicament moving and her action noble. Not every soprano with a good voice can encompass so much humanity. That, indeed, is a lesson which our time ssem to be in danger of learning the wrong way round: the Marschallin with a good voice is regarded suspiciously and absence of voice points persuasively to 'intelligent artistry'. In a great Marschallin of course these things will go together: there will be intelligence, authority, warmth of feeling, beauty of voice. So it was in Lehmann; so, to my mind, it is in Schwarzkopf. But there the heat of controversy begins to glow: 'Not to be mention in the same breath,' 'Not right in the part at all', 'But then, you didn't SEE Lotte',…
"One passage may serve to illustrate: "manchmal steh ich auf mitten in der Nacht und lass die Uhren alle, alle stehn'…Ohms is beautifully hushed, Lehmann allows a profound stillness to settle at 'alle steh', Schwarzkopf tells the confidence with the deep feeling of a woman and some of the pathos of the girl locked away inside her…."
Stean continues with more detailed examples of Schwarzkopf in the role and concludes: …"the warmth is of a loving woman speaking with heart and soul [re: Schwarzkopf]. And so one could go on. As yet, performance has not generally been place by critics and others amongst the great of the century: with Lehmann's, for instance…."
Soprano/teacher Lois Alba wrote the following in 2019:
"Mme Lotte Lehmann changed my life. Her direction, both in opera scenes as well as Lieder, were memorable moments. Her absolute devotion to her art was evident in every word she sang.
"Through my experiences with Lehmann, I have come to believe that there are no real accidents. In 1956, I had sung Flora in La Traviata in the first season of Houston Grand Opera.
"Upon hearing that Houston Grand Opera would soon present Der Rosenkavalier, I called the director, Walter Herbert, and asked to be considered for the part of the Marschallin. After a brief pause he informed me that this part was for a seasoned singer. Assuring him that I had sung all the important scenes at my school, Mannes, in New York, he finally consented to give me an audition.
"My audition was onstage and I offered both of the monologues and the trio. Fortunately, there was also the director from a current production at HGO and he said I could probably do it if coached with an important person.
"The revelation came on the Saturday Broadcast from the Metropolitan Opera. Lotte Lehmann was interviewed and she announced that she would produce Der Rosenkavalier the following summer at the Music Academy of the West, with young singers and in the John Gutman English translation. They also planned to do it in English at HGO!
"I quickly contacted her office and was given a day and time to audition for her. She lived in Hope Ranch Park and I auditioned in her studio adjacent to the house. I shall never forget the room, filled with pictures of her many colleagues and Richard Strauss, with whom she had performed major roles. She was seated on a small chaise, and after I sang the aria, like Octavian, I sat at her feet. She liked my voice, but said the part was already cast and yet, finally, she decided I would sing the first and third performances since I might have a contract in Houston.
"Lehmann asked me to stay for the week to coach the whole role before returning home. On my return to Texas, I was given the HGO contract without additional auditions due to Mme Lehmann's recommendation and approval of my singing.
"That summer was a dream. We had Lieder classes with Lehmann and the accompanist Gwendolyn Koldofsky, a superb artist. Grace Bumbry was there at the time and was a great protégée of Lehmann. She was to sing Venus in the Bayreuth production of Tannhäuser very soon. Grace's first words to me were, "I hear you are our Marschallin."
"Mme Lehmann's staging of Der Rosenkavalier had complete insight because she had sung all the main roles: First, Sophie, then Octavian and finally the Marschallin. She was unique in that she allowed each of her students to decide for ourselves if our actions were suitable to our characters. She marked all of our scores as we worked and advised us to put our stage direction in our scores as well as the breaths we took. Lehmann had boundless energy, even if crippled by arthritis. The evening of the premier, a small woman approached me and asked how I felt about my performance. I replied, "Blessed opportunity." She said Lehmann was pleased. As she walked away, I wondered how that small woman had been a towering Medea on Broadway. It was Judith Anderson.
"Lehmann was pleased with the outcome of my Marschallin and wrote glowing words in my score.
"Years later, when Lehmann was giving a Master Class in Vienna, she invited me to visit her there. Not by chance, there was a new publication of the last Act of Der Rosenkavalier in the manuscript of Strauss. I bought two copies and gave Lehmann one. She loved it and wrote in mine 'from die alte Furstin Resi!' (The old Marschallin Resi!)."