Lotte Lehmann sang for the armed forces on a number of occasions. Beaumont Glass wrote: "Whether at Town Hall or an army base, her warm personality, along with her voice, quickly won the hearts of her audiences, soldiers as well as civilians. After an Easter Sunday afternoon recital at Camp Roberts in California a young soldier from Texas told her: 'You sing just like my mom.' In July 1944 she also sang at the Hollywood Canteen, where famous movie stars entertained the troops."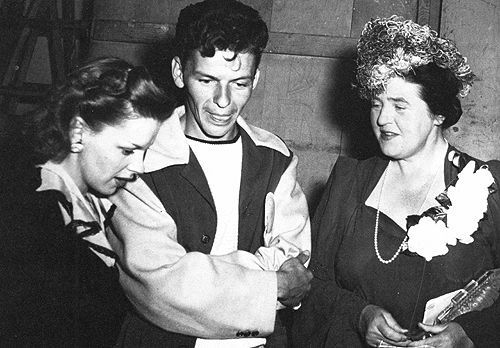 As early as 1938 Lehmann had shown her support for the world-wide situation by singing, along with the baritone Lawrence Tibbett, for the benefit of refugees. Similar recitals, often with Bruno Walter at the piano, were performed in 1940 and 1941 for the Red Cross and the British Royal Air Force. Lehmann sang on the radio to help raise money for war bonds and appeared for annual Christmas seal drives in New York and for the "Internees in Unoccupied France" and for American musicians' "Emergency Fund". We have recordings of Lehmann singing for the "Armed Services Radio."
Here's another example of Lehmann's singing for charity: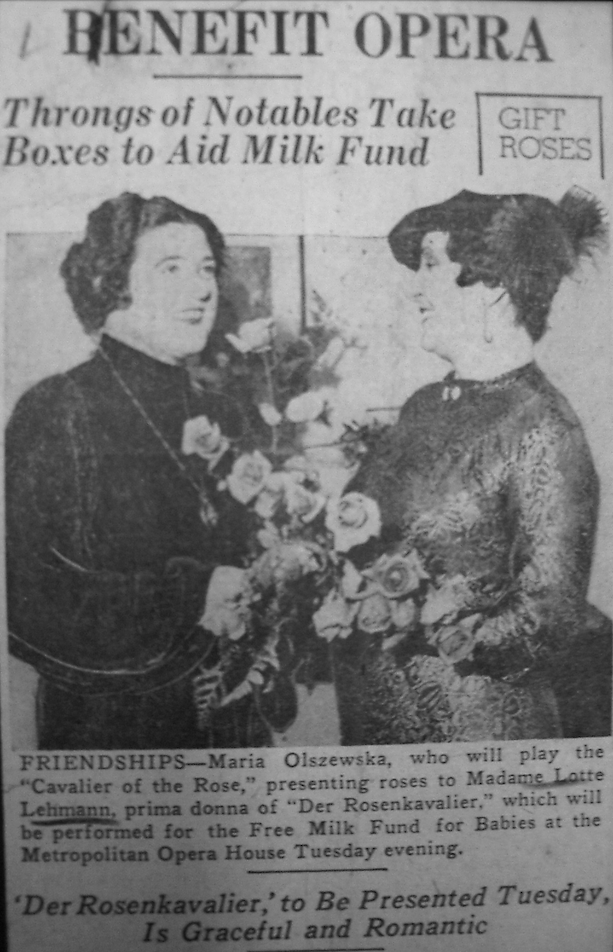 But Lehmann's appearance at Fort Roberts' "Soldier Bowl" in California on Easter Sunday, 12 April 1943, was special. Lotte Lehmann's friend and fan, impresario Richard Pleasant (1909-1961), may have been the person to organize the performance. He's seen (in uniform) on the Jeep with LL et al. On that same Jeep one can see Frances Holden, Betty (Constance?) Alexander, the pianist and LL next to the Camp's commander, Brigadier General Warren Fales, who drives.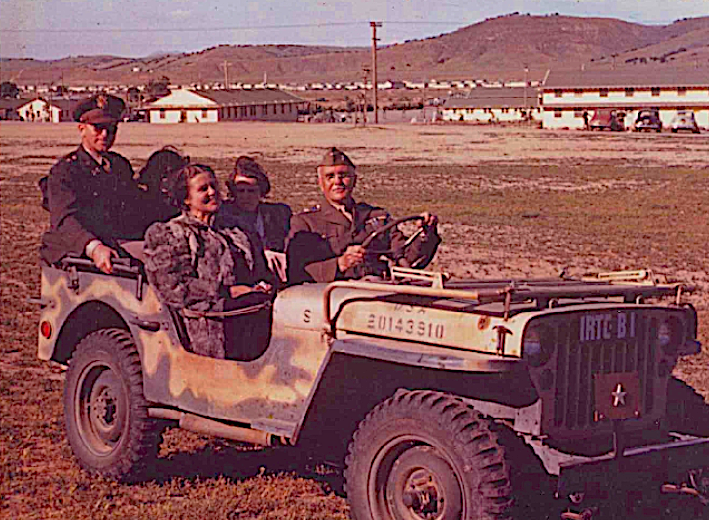 Because we know what Lehmann sang for one of the Armed Forces Radio Service broadcasts, we can get some idea of the songs she sang at Camp Roberts. For that recital with piano, she sang Schubert's Serenade (in English); Londonderry Air (aka Danny Boy and Drink to me Only. It always amazes me that a German would sing in the States while the Americans were fighting for their lives against the Germans. Here's my guess as to her program for American soldiers in the middle of World War II: Hageman: Music I heard with you; Velvet Shoes; Wolfe: British Child's Prayer; Tchaikowsky: None but the lonely heart; Rachmininoff: In the Silence of the Night (remember Russia was one of our allies). And here's what it might have sounded like:
Londonderry Air & Schumann's "Dedication"; Schubert's "Serenade"; Rubinstein's The Spring; None But The Lonely Heart; Cradle Song; God Bless America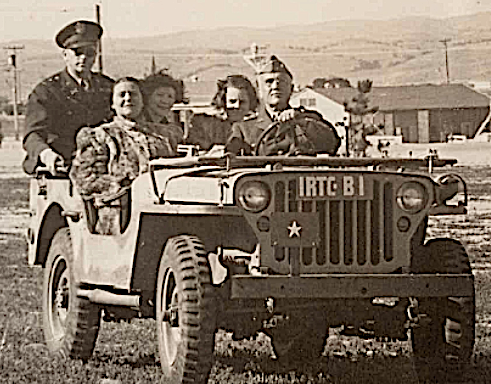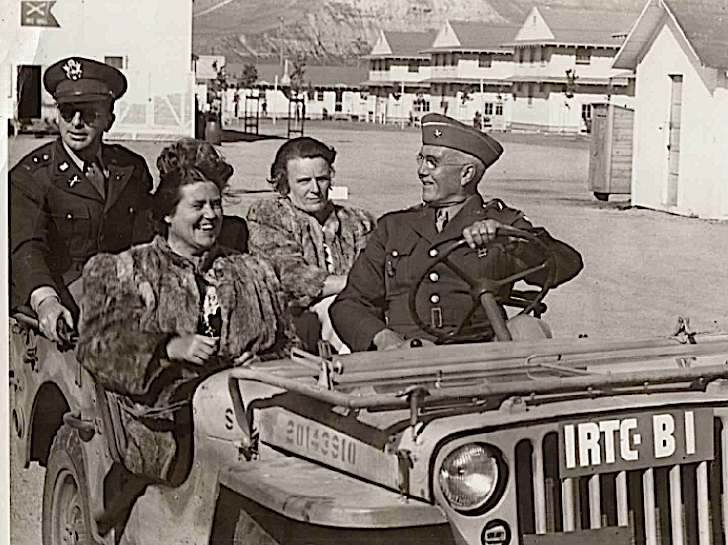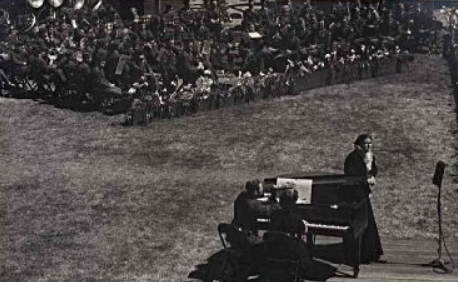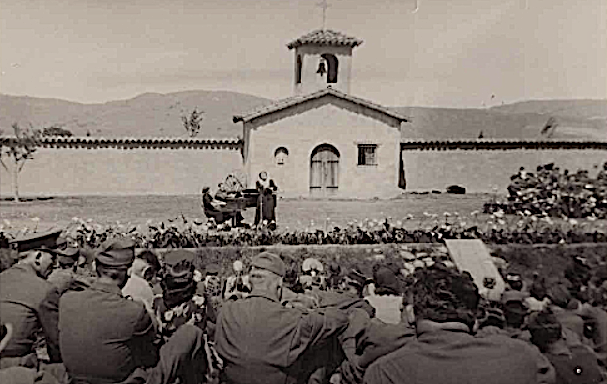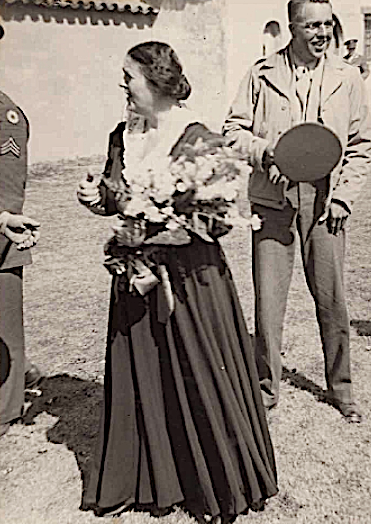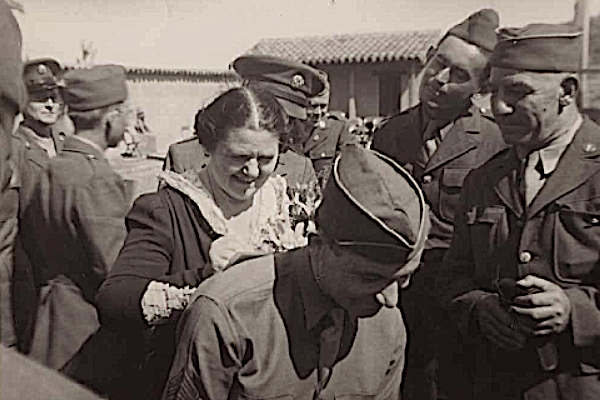 Camp Roberts was built in 1940, as a World War II training center. At its peak it housed 45,000 troops in 1945. The camp opened as the Camp Nacimiento Replacement Training Center, but the name was changed, to honor Corporal Harold W. Roberts, a tank driver in World War I who was posthumously awarded the Medal of Honor. For World War II 436,000 Infantry and Field Artillery troops were trained at the camp. Camp Roberts was one of the largest training camps during World War II. At the camp a 750 bed Army hospital was built to serve the troops. The camp also held prisoners of war. German and Italian prisoners of war were held at the camp during WW2. Italian prisoners of war were given the option to volunteer to work in special Italian Service Unit and work at Camp Roberts' 10th Italian Quartermaster Service Company.