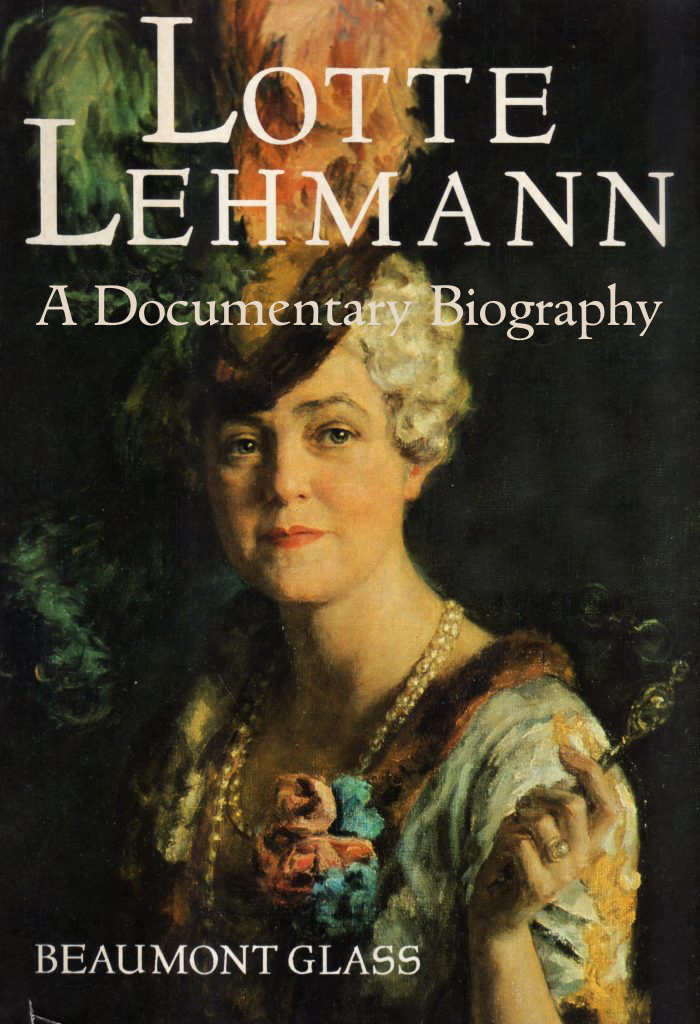 LOTTE LEHMANN
A Documentary Biography
By Beaumont Glass
(Bolded text is either reinstated, updated, or new text that did not appear in the original 1988 publication.)
CHAPTER 14
Like a Flow of Lava
When Lotte returned to America in the fall of 1934, she brought her brother, Fritz, with her.  She hoped to help him establish himself in New York, as a dramatic coach for singers. They arrived November 6 in New York. Constance Hope put his name in all the papers; he was introduced to the musical world at a pair of parties. One of them, hosted by Miss Hope, was populated by the likes of Rosa Ponselle, Gladys Swarthout, Geraldine Farrar, Lawrence Tibbett, Friedrich Schorr, Artur Bodanzky, Fritz Reiner, and Aaron Copland. Lotte, by the way, considered Ponselle to have the most beautiful voice of any woman in the world. There was an awkward moment when the couch broke down just as Fritz was starting to pose between Lotte and Miss Ponselle for the press photographers. The story, if not the picture, made the papers. Also, a large ad soon appeared in the Musical Courier that "Fritz Lehmann, Brother and Dramatic Coach of Lotte Lehmann and Regisseur of the Vienna Conservatory," would "accept pupils in dramatic interpretation of lieder and operatic roles." Lotte did what she could to launch him in style. But after two hectic days in New York, she and Otto had to leave for her first engagement at the San Francisco Opera. Fritz was left on his own.
He was a remarkable teacher. With patience and kindliness, he always knew exactly how to draw out whatever talent might be latent in his students. His rich and original imagination guided his pupils to create the sort of pictures that would stimulate their own imaginations and help to bring their songs and arias to life.
But it takes more than two days and two parties to build up a following in New York.
It was not easy to adjust to another world, another language, a different way of life. Fritz stuck it out for a couple of months; then, discouraged, he went back to Vienna.
When he returned, five years later, he was finally able to establish a foothold in New York (as well as, later, in Santa Barbara) with the help of Theresia, his second wife. Before long he had a number of devoted students and a highly respected reputation. Lotte, after she too had started teaching, often sent her own students to him for extra coaching.
San Francisco presented Lehmann in Puccini. All of her previous operatic appearances in North and South America had been in Wagnerian music dramas. She sang Tosca (on November 16) and Madame Butterfly (on November 21), both for the first time ever in Italian. Tosca, especially, was an unqualified success. All the reviewers ranked her portrayal among the great ones.
…Her Tosca had not the sculptured beauty of Muzio;  she did not wallow as Jeritza did when she sang "Vissi d'arte." What she did was to give us a Tosca evolved out of her inner consciousness, and in that scene with Scarpia, she touched a note of beautiful humility which neither Bernhardt nor Muzio ever gave us…. (Redfern Mason, The San Francisco Examiner, November 17)
…Singing the role of Sardou's Roman prima donna for the first time in Italian, Mme. Lehmann at one blow struck home to San Franciscans the reason why her name is renowned in Vienna, London, and New York.
She is a personality. Her voice, opulent and beautiful, but not necessarily restricted to the charm of honeyed tone, bespeaks a penetrating expressive intelligence. She constructs a role as it should be constructed: with human conviction and with a controlled and flexible sense of its form…. (Alexander Fried, The San Francisco Chronicle)
…Superb actress and glorious songstress is Lotte Lehmann….The German soprano sang the role of the glamorous Tosca…and negotiated the mellifluous Italian phrases as if to the manner born. However, had she sung in Sanskrit it would have mattered not. For the Lehmann voice and the Lehmann dramatic instinct are bigger than nationality or language…. (Marie Hicks Davidson, The San Francisco Call-Bulletin)
Some missed an Oriental touch in her Butterfly. Some—those who looked for a Japanese doll—thought her miscast. Most were deeply moved.
…We have been accustomed to the suicide behind a screen….After witnessing Lehmann's superb acting, her interpretation seems the logical one. She hugged the child in a frenzy of love and despair, shoved him off stage, and then, wrapping a knife in her kimono, committed the dreadful hara-kiri in full view of the audience….It was a shuddery last act, and one we shall not soon forget. Aside from the sheer drama of Lehmann's acting, there was a quality of voice that spelled agony and death, a kind of declamatory huskiness in minor key that was heartbreak and the will to die…. (Davidson, Call-Bulletin)
…This Butterfly delighted the emotions by approach through the intelligence….Cio-Cio-San, strictly speaking, is not a Lehmann role. By her mastery of the stage and by the penetration of her feeling she makes it her own…. (Fried, Examiner)
The next stop was Philadelphia. On November 30, December 1, and December 4, 1934, America saw and heard the famous Marschallin of Lotte Lehmann for the first time, accompanied by the Philadelphia Orchestra, then considered by many to be the best in the world. Elisabeth Schumann was the Sophie. The Rosenkavalier production was fully staged by Herbert Graf and conducted by Fritz Reiner. Graf introduced a controversial innovation (repeated many years later, in Zurich): he used a revolving stage in Act III to show Baron Ochs being chased through the inn and out into the street by the waltzing chorus of waiters, lackeys, musicians, stable boys, and screaming children. The great final trio for the Marschallin, Octavian, and Sophie took place in the moonlit garden of the inn, with the candle-lit windows of Vienna as a backdrop.
Lotte Lehmann's Marschallin created the expected sensation. Several important New York critics made the trip to Philadelphia just to hear her, sending back glowing reports to their papers:
…I had heard Mme. Lehmann sing this enamoring role in Europe, but I had never known her to re-create it with so probing a comprehension, so sensitive and sure a touch, a truth of feeling and of utterance so steeped in the essence of the part…. (Lawrence Gilman, The New York Herald-Tribune, December 1, 1934)
…So subtly projected was this great lady that for once the conventions of the theatre ceased to exist, and one felt oneself swept irresistibly into absolute identification with an alien soul. It would take a book to enumerate the details of this extraordinary impersonation, its inspired gestures, its perfection of movement, its uncanny vocal revelations, its pathos, nobility, and tenderness. But Miss Lehmann is to do the Marschallin at the Metropolitan this winter, so I shall say no more…for fear of having no adjectives left for that happy occasion….(Samuel Chotzinoff, The New York Evening Post, December 3, 1934)
While in Philadelphia, Lotte invited Reiner and her Rosenkavalier colleagues to a "typically American" Thanksgiving dinner in her private suite at the Ritz Hotel. The following report found its way into The Philadephia Record:
Mme. Lehmann didn't take her duties as hostess too formally among old friends. When the festal table was wheeled into the room, bearing a huge turkey, its drumsticks adorned with what Herr [Emanuel] List called "lace pants," Mme. Lehmann greeted it with the swan song from Lohengrin and then, seizing a carving knife, rendered the stabbing scene from Tosca, with the turkey cast in the role of Scarpia….Both performances were hilariously applauded by the small audience present and Mme. Lehmann was repeatedly called from the adjoining bedroom (whither she made her dramatic exit) to bow her acknowledgments.
Both Otto and Fritz were there, to give the touch of family that a real Thanksgiving needs.
Between the last two Philadephia Rosenkavaliers, Lotte rushed to New York for a joint-recital with Jascha Heifetz at the Waldorf Astoria Hotel (one of the very social Bagby Morning Musicales).
Chicago, which was to have been the scene of her first Isolde, with Melchior as Tristan and Frederick Stock conducting, saw Lotte only once that season, as Elisabeth. Instead of Lehmann, Elsa Alsen sang Isolde. No reason was given to the press. Presumably Lotte had second thoughts about the part. She had already canceled a Chicago Elsa, earlier in the season. Maria Jeritza sang that performance, as well as Salome and Turandot.
A concert with orchestra in Toronto won rapturous reviews like this one:
…It was a real Wagnerian voice….As she sang, she seemed like the first Frigga, the original Norse queen of the heavens, who was at once so majestic as to rule but so sensitive that she could spin the clouds on her loom….There was only greatness….Her singing of the "Love-Death" from Tristan und Isolde had an ecstasy that was truly sublime…. (Pearl McCarthy, The Mail and Empire, Toronto, December 12, 1934)
Toronto was almost equally charmed by some of Lotte's less sublime utterances. Though it is not always possible to distinguish a genuine tongue-in-cheek Lehmannism from journalistic fiction, here is a bit of what Canadians were reading, including the headline:
DOESN'T THROW THINGS MUCH—JUST AT THE CONDUCTOR
While her hair was being curled, her nails manicured, Miss Lehmann gesticulated with her free hand as she denied that she had a star's temperament.
"I hate it to be a star," she said, "I like it only to be a good singer."
"Do you ever throw things?" she was asked.
"I never throw things so very much," she said. "If I throw things, I throw them at the conductor, maybe, but never at the call boy. I know myself how hard it is to work."
Other interviews at about the same time were more edifying:
…Asked to define [the difference between lieder and opera], the artist knit her brows in thought for a moment.
"In opera," she pointed out, "you live a part through from beginning to end, giving life to one single tonal entity; you cannot deviate from one character. On the other hand, in concert every song is a different mood. One's temperament is called upon for a wider variety of character portrayal.
"…The singer who goes on the stage to sing a part in a music-drama has perhaps the most perfect escape from his own personality into that of another that art offers. We leave behind us the commonplace circumstances of our lives, we live, breathe and have our being on a loftier plane than that to which we rise in actual existence. In the three hours of a performance, we experience the sensations, the joys, sorrows, desires and disappointments of a whole lifetime—and can return to our own sphere unscarred by our operatic suffering, though perhaps ennobled by the beauties of that other life….
"In concert, you retain your own identity—I am Lotte Lehmann, recounting certain events, painting you a picture of a certain mood or scene. On the opera stage, I must forget Lotte Lehmann as completely as if she had never existed. Anything of her that infringes on the performance will mar the artistic balance. Body and soul, I must be Elisabeth—Eva—Isolde—one of the Puccini heroines, or whatever part I am singing. On the recital platform, Lotte Lehmann conveys by her voice—by mind and soul, what the songs mean to her, but she does not wear the trappings, make the physical gestures of the characters she sings of."
After a Christmas spent at Atlantic City, Lotte sang the first act of Die Walküre in an all-Wagner concert at Carnegie Hall, conducted by Bruno Walter.
Her second Metropolitan season began with Tannhäuser on New Year's Day, with Melchior, Lawrence Tibbett, and Anny Konetzni as her colleagues. The notices were marvelous, at least for Lotte:
…It is difficult to speak in anything but rhapsodic terms of Mme. Lehmann's first appearance of the season in the role of Elisabeth…. (Winthrop Sargeant)
…The Elisabeth of Lotte Lehmann is one of the most moving embodiments to be seen on the contemporary operatic stage…. (Jerome D. Bohm, The New York-Herald Tribune, January 2, 1935)
…The electrifying spark which set off everything at white heat was the superb performance of Mme. Lehmann as Elisabeth…. (Henriette Weber, The New York Journal)
Mme. Konetzni's notices, incidentally, were so bad that she complained to the press of a "conspiracy" against her.
Three days later, on January 4, Lotte sang her first Metropolitan Marschallin with a bad cold. She had begged for a postponement; but, because the performance was a sold-out charity benefit, the date could not be changed.
Emanuel List was Baron Ochs, as in Philadelphia; Maria Olszewska, as on the recording, sang Octavian; the Sophie was Editha Fleischer, the conductor was Bodanzky.
Der Rosenkavalier had not been performed at the Met for five years. One of the most complicated operas in the repertoire, with a large cast of tricky small parts, it received all of three rehearsals for this important revival.
The orchestra had an off-night. But, to be fair, the score is not the kind that most musicians can simply read at sight. By the second performance everything seems to have gone more smoothly. In any case, cold or no cold, the Lehmann Marschallin was warmly received and soon became one of the major adornments of the Met.
One sign of her success was manifest to all Americans: she made the cover of Time magazine. She was the first woman in opera to be honored in that particular way. She was photographed in color as the Marschallin, while a detective with a loaded automatic stood by to guard the jewelry, on loan from a leading Fifth Avenue firm. The issue of February 18, 1935, made clear to the world that Lotte Lehmann had "arrived."
Meanwhile, however, a bomb had dropped.
Kirsten Flagstad burst upon the scene in a completely unanticipated, sensational way. She had been almost unknown outside of Sweden and her native Norway. Her two seasons at Bayreuth had passed without notice. Yet suddenly, on February 2, 1935, her debut made history at the Met. It was a radio broadcast of Die Walküre and she sang the Sieglinde (without a single rehearsal!). Geraldine Farrar, who was then the commentator for the Metropolitan Opera broadcasts, told the radio audience that they had just heard one of the greatest voices of the century. Four days later Flagstad sang Isolde. Hers was a new sound, a vocal phenomenon. The voice was enormous, effortless, majestic. Suddenly Wagner became a best seller at the Met. Not just for Wagnerians. Tristan und Isolde, with Flagstad and Melchior as the immortal lovers, became the most popular opera in the repertoire. The Metropolitan could count on a sold-out house whenever Flagstad sang. She sometimes sang as much as four performances a week. It was often said, in retrospect, that she saved the Met from the depression.
New York now had the finest Wagner ensemble in the world. Lauritz Melchior had practically no competition anywhere as leading heldentenor. Friedrich Schorr was generally considered to be the greatest Wotan and Hans Sachs. Ludwig Hofmann, Emanuel List, and, somewhat later, Alexander Kipnis were powerful villains, kings, dragons, or giants. Karin Branzell, Maria Olszewska, and, soon, Kerstin Thorborg were worthy queens of Valhalla. Occasionally Ernestine Schumann-Heink—who had made her American debut in 1898—came out of retirement to sing an earth-mother Erda. The great soprano parts, however, are the crowning glory of Wagner's creations; and there the Metropolitan had two special treasures: Kirsten Flagstad, the sensational new Isolde and Brünnhilde, and Lotte Lehmann, the world's greatest Sieglinde and Elisabeth, by common consent, and one of the most admired of Evas and Elsas. Those Lehmann roles were also sung at the Met by Elisabeth Rethberg and, for a time yet, by Göta Ljungberg, Maria Müller, and Gertrude Kappel, among others. Strangely enough, the greatest Brünnhilde and the greatest Sieglinde never sang together at the Metropolitan. They were scheduled to do so on tour in Boston (on April 1, 1935), but Lehmann canceled because of illness and Rethberg took her place. Flagstad and Lehmann sang Die Walküre together in San Francisco (November 13 and 22, 1936) and in Milwaukee (December 14, 1937), but never anywhere else. There is an exciting off-the-air recording of most of the second act (all but the very end), with Melchior and Schorr, Reiner conducting, from the second of the two San Francisco performances.
As for the performance in Milwaukee, there is a letter to Constance Hope that records some of Lotte's impressions of that event:
I missed Lauritz enormously. Laholm [Eyvind Laholm, real name Edwin Johnson, from Eau Claire, Wisconsin] has quite a good voice but he sings so inexpressively [so wurschtig] as to make everyone yawn….I tell you, it takes a sense of humor to sing such a performance. For example: my dressing room was directly adjoining the men's room, which could not be locked….But all went well. Flagstad listened to the whole first act. She said she wanted to watch because she is going to sing it soon. So she sat in the wings. Don't you agree that even if she found me horrible she should have said something to me afterwards? To listen to a whole act—to tell me in advance that she would—and then not a word… That hurt me a bit. Constance, I don't know, am I such an envious, spiteful person that I can't be objective? I found her voice very beautiful, very fresh and flowing, but nothing that special… It fails to touch my heart. It doesn't grip me. Always, when I heard dear [Helene] Wildbrunn sing the glorious phrase: "Zu Wotans Willen sprichst du, sagst zu mir, was du willst; wer bin ich, wär ich dein Wille nicht?" ["you are speaking to Wotan's will when you tell me what you want; who am I, if I am not your will?"]…tears came to my eyes. And yesterday there was nothing there—not for a moment the living heartbeat which is after all the absolutely essential thing in art—for what else is "art"? Only artfully technical singing?…But the people who make up the audience and whose opinion is decisive think differently: they applaud wildly and see in her the greatest artist.
Flagstad, in turn, had her own particular reaction to Lehmann's Sieglinde. She said in a BBC interview that she was as embarrassed by such emotional abandon as if the singer were undressing in public. Temperamentally they were poles apart.
All in all, the advent of Flagstad was a damaging blow to the Lehmann career. One year after Lotte's arrival at the Met, she was partially eclipsed, at least for a part of the public, by the sudden, overnight sensation of Kirsten Flagstad. During that spring of 1935 Flagstad sang two Sieglindes (Lehmann sang none), two Elisabeths and an Elsa (Lehmann sang one of each), along with her Isoldes, Brünnhildes, and three Metropolitan concerts. True, the critics almost all preferred Lehmann in the roles she shared with Flagstad; but Flagstad was the new "hot ticket" and the general public wanted to hear her in anything she was willing to sing. The unkindest cut of all, perhaps, is that Fidelio, originally announced for Lehmann, was eventually given to Flagstad. America never heard Lotte Lehmann in the role that many considered her greatest and noblest achievement.
Elisabeth Rethberg, Lotte's other leading rival at the Met, had a very lovely voice; as an actress she was rather conventional and unimaginative. She was versatile, the Met's most valuable Aïda. But she lacked theatrical magic. There was never the slightest friction between her and Lotte; they had, in fact, a very friendly relationship.
Lotte sang her first Metropolitan Elsa on February 14, with lovely reviews, followed by two more Marschallins, and an Eva, her second at the Met. Then, instead of the Fidelio that had been expected, she was given a revival of Tosca, which had last been heard with Jeritza.
At the eleventh hour, Richard Crooks, who was to have sung Cavaradossi, was stricken with appendicitis. Giovanni Martinelli was rushed on stage to replace him, without a rehearsal. Lawrence Tibbett was trying out his first Scarpia. He shocked several critics with some unaccustomed realism in the seduction scene. Vincenzo Bellezza, the conductor, had more troubles with the orchestra than usual. There seemed to be little coordination in the staging. Many of the reviews were excellent for Lotte, if not quite as rapturous as those in San Francisco a few months before. But Lotte was deeply depressed because two critics, whose opinions she valued, wrote negative notices. Frances Holden, whom she had not yet met, had heard through friends at the Constance Hope agency about Lotte's distress and wrote to reassure her, and to reproach her for taking those reviews so seriously. Lotte's reply expressed her feelings in a most revealing way. Her English was not yet as fluent as it later became. These were her words:
Your lovely letter has given me much joy. You must understand me and not blame me, that I hear too much what everybody is talking… I am always afraid to be an arrogant "prima donna," who thinks that everything is well done… I know artist friends, who are very intelligent, but without any objectivity for themselves. I want to be critical with myself. I know that often I spoil my life, but it is my nature, I can nothing do against it…
The Tosca performance was so bad, it was like under a bad luck. But I myself have given all my heart, have soon forgotten that I was fighting already against a overworked weakness of my voice. When I saw next day the critics of Downes and Chotzinoff, I was so depressed, because I have said to myself: "I have felt the Tosca, I was the Tosca. And they have not felt it with me. Therefore perhaps I was bad. I have not had the artistic power to show what I was feeling." Always I search the fault in myself—that is perhaps the fault…
Oh, I was feeling miserable. And then came the trouble with my voice and that the Director in Metropolitan has not believed my illness [Lehmann had been forced to cancel a Tosca in New York and two performances, Walküre and Lohengrin in Boston]. He thought I have a caprice… And my doctor has not protected me… I never will forget those awful two days… But now I am recovering, and my voice seems all right again. And I will find myself, my believing in myself—in lovely holidays on the French Riviera.
These are the reviews that caused Lotte such distress:
…Possibly the performance would have been better coordinated if it had not been for the absence of the unfortunate Mr. Crooks. As it was, Mme. Lehmann sang brilliantly, at times in a pseudo-melodramatic way. She was a German Tosca, rather heavy, lacking the mobility and the quick and light play that Italian or French singers can give the part…. (Olin Downes, The New York Times, March 22, 1935)
…Miss Lehmann, laboring under the disadvantage of some ill-fitting costumes, gave a vivid portrayal of the chaste Roman opera singer, and sang with her usual fervor. Yet, somehow, her Tosca did not achieve the reality of her Eva, her Marschallin, and her Elisabeth. It was a stagy facsimile of a hectic lady, melodramatic and rather self-conscious…. (Samuel Chotzinoff, The New York Evening Post)
Other critics, on the other hand, had nothing but praise:
…Mme. Lehmann, looking very beautiful and dashing, reminded us from her first entrance that she is a versatile and imaginative singing actress and can turn from Eva to Floria Tosca as easily as most of us can turn from sherry to champagne…. (Lawrence Gilman, The New York Herald Tribune)
As for the canceled Fidelio, Lotte must have been shocked to learn that Bodanzky intended to use his own version of Beethoven's opera, in which he had substituted sung recitatives of his own composition for the original spoken dialogue.
There had been considerable talk, before the season started, of combining the Metropolitan with the New York Philharmonic. That plan fell through, for a number of reasons; but Lotte had asked Toscanini if he would be willing to conduct her in Fidelio at the Met. This is his reply:
Alas! Only at Salzburg would I be able to conduct Fidelio with you—not at the Metropolitan with such a bad orchestra—but I think it would be very difficult for that to happen… It is time that I retired.
During this time, the affair with Toscanini, which was to re-ignite again in the blaze of their collaboration at Salzburg that next summer, was causing Lotte considerable distress, as she confessed to Mia Hecht:
[March 4, Indianapolis] T. was with me once in New York. The flame is extinguished, I cannot deceive myself any more. He is different. And even if he is overcome by the moment—it is nevertheless the passion of the moment, not of the heart… I can see it very clearly and gradually come to terms with that. But something incomparably precious has been broken for me… He has taken the whole affair as an impetuous adventure, above all he has represented it as such to me, and is surprised—and not even pleasantly surprised—that I can't get over him. He kept saying: "Mais tu es une folle! Pourquoi m'aimes-tu encore? J'avais oublié toutes les femmes—pourquoi m'as-tu éveillé? Soi bonne—oublies-moi…" ["But you are crazy! Why do you still love me? I've forgotten all the women—why have you aroused me? Be good—forget me."] He was sweet and enchanting—but a world away from me…. I can also not understand that he never mentions my singing in his concerts any more… And yet he certainly loves me more as an artist than as a woman. Oh, much more!! He came to my recital and was very enthusiastic and very moved….
Otto is on his way to America right now… When I arrive in New York he will be there. Thank God. He is really the only one, the best one. Oh, how foolish I would have been to leave him last summer, when I was so close to doing so….
Looking back at the opera season past, Esquire had this to say:
…Gatti-Casazza's final season at the Metropolitan Opera House will probably be remembered chiefly for the rise of Kirsten Flagstad and the recognition of Lotte Lehmann. Through the magic of the first of these two singers, Wagner's Tristan und Isolde actually became the most popular opera of the year, breaking all box-office records for the old building; and Mme. Lehmann succeeded not only in establishing the Strauss Rosenkavalier as the masterpiece that it is, but in bringing new life to several other operas that had all but succumbed to the spell of perfunctory routine…. (The Listening Post, Esquire, June 1935)
Altogether Lotte sang seven performances at the Met that season. Flagstad, who started a month later, sang thirteen, Rethberg fourteen, Müller twelve. But Lotte was singing recitals and concerts everywhere. Greenwich, Wellesley, Washington, Princeton, Kansas City, Ann Arbor, St. Louis, Detroit, Saginaw, Brooklyn, Philadelphia, Chicago, Omaha, Indianapolis, Charleston, Pittsburgh, Scranton. Two Town Hall recitals. The General Motors broadcast with Bruno Walter as conductor and accompanist. The Ford Sunday Evening Hour.
The radio concert with Walter inspired a particularly lyrical review:
…Lotte Lehmann's Isolde [she sang the "Liebestod"] contained everything that Wagner wrote into the music; and for the creation of such an Isolde there must be not only a great singer but a great woman….She did [lieder] in such a way that made us wonder whether all music might not be great music if it only had a Lotte Lehmann to sing it…. (Aaron Stein, The New York Evening Post, January 15, 1935)
While dashing about the country, Lotte was irritated to read a Profile in The New Yorker, by Marcia Davenport, which, to Lotte's way of thinking, seemed to portray her as a singing housewife, rather than as an artist. The editors—and Constance Hope—wanted "human interest" rather than art. Along with the down-to-earth details, however, Davenport managed to make some strikingly apt observations about the artist.  A few excerpts:
Lehmann is a woman of simple German sentiment. She is gentle and jolly, of medium height, and plump….Her speaking voice is intimate and a bit throaty. She has rather heavy eyebrows, unusually mobile and expressive, and her eyes are characteristically humorous. When she sits on a camp stool in the wings during a rehearsal at the Metropolitan, she looks rather like the schoolmistress her father wanted her to be. Five minutes later, in an old blue dress, with a round comb skinning her hair back, she walks on the stage and complete dramatic illusion walks on with her….
Singers like Lehmann are a problem for opera managements in that they take a performance out of the rut of easy-to-cast mediocrity; only a first-class cast can meet the challenge of excellence….Temperament, as found in Lehmann, seems to mean that if the other singers are hams, they will be a thousand times more ham in their inadequacy, and that if they are competent, they will rise with Lehmann to genuine inspiration. Lauritz Melchior demonstrates this latter case every time he sings with Lehmann, and says so….
Other singers are fascinated by her and she by them. Rosa Ponselle met her for the first time in a crowded greenroom and without any words rushed into her arms. Last year, after hearing Ponselle's Donna Anna, Lehmann was moved to tears and was having a little cry on the staircase when an admirer rushed up and started to gush about her singing the week before. Lehmann stopped her brusquely. "How can you say such things to me," she scolded, "when you have just heard Ponselle sing like that?"…
Last year some friends gave Lehmann a birthday party, with a huge cake iced and decorated with inscriptions….She said she must take the whole thing back to Vienna with her. They told her the filling would get stale. "Very well, then," she said, "but I must have the top of it with all the beautiful Glückwünsche on it." So she took a knife and sliced off the whole top of the cake and handed it to Kahti [Otto's nickname] to put in a trunk. He got it in somewhere….
Five or six mornings a week, in New York, the hairdresser and Balogh, her accompanist, arrive together at eleven o'clock. She stops writing then and, still at her desk, picks up her sewing. While her hair is being done, she sews and sings….
Dining at a hotel or restaurant, she firmly refuses dessert. She urges everybody else at the table to have some ice cream, though, and people who know her well order some whether they want it or not. While Kahti and the others talk, Lehmann toys with a spoon and keeps tasting the ice cream on her right and on her left. Presently both dishes are empty. This has been going on for a long time now and nobody ever says anything about it…
In the train, on the way to Omaha, Lotte—in reaction—borrowed a pencil from a reporter and started to dash off a profile of herself.
"I'll write it in German," she decided. "Balogh can translate it."
Balogh, her Hungarian accompanist, bowed agreement.
For a desk Mme. Lehmann used the score of Tosca, which she had been studying as her train crossed Iowa….
The writing of the self-analysis didn't take long, but the translation was a Herculean task.
M. Balogh beat his brow, tore his hair, and fairly writhed in the throes of composition.
Miss Lehmann acted it all out as she went along, arms waving, brow knitting, while the volatile Balogh shouted back and occasionally told her to keep still so he could work.  She would subside then, but not for long….
The Lehmann piece wasn't completely translated when the train reached Omaha, so Mme. Lehmann and M. Balogh finished it while sitting on a bench at the Union Station. Their shouts and gestures startled the other travelers.
And here is the result of her extemporaneous self-portrait:
You wanted to hear from me, myself, what I am like, which puts me in a rather embarrassing situation. I feel myself sitting before a mirror and looking at myself with strict objectivity, and I am afraid I will see myself in a more favorable light than I deserve.
What I see at the first glance: a fantastic enthusiasm for my profession, which I consider as a mission. To devote myself to it is my only urge, desire, and even more—an imperative command which I happily obey.
The next thing I love in life is freedom. I could not sing in a country where they would prescribe what I sing, how to sing, with whom, and in whose composition.
I like to travel, to sing to new audiences, which don't know me yet, and I find a compensating satisfaction if my singing creates a bridge between me and my public, if art brings us together in a happy mood.
I love the German lieder of the romantic period, as I love everything romantic and mystic in life.
I love parts and figures on the stage which have strong personalities and whose fates are of a gripping nature.
If I am nervous I am likely to be unpleasant (mostly before opening nights, or sometimes before concerts). Then I can also be unreasonable, which I regret almost immediately.
Around the household I am useless—no talent at all for it. People think I am not vain, but I am vain enough to feel hurt if I am too much criticized….
But I had better stop now. It is horrifying to see oneself through X-rays. It's better not to know too much, especially for my public, which should like me for myself.
Marcia Davenport, the author of the offending article, was actually one of Lotte's most devoted fans. The heroine of her novel about an opera singer, Of Lena Geyer, was a composite of her own mother (the well-loved soprano Alma Gluck), Nellie Melba, Geraldine Farrar, and Lotte Lehmann. Later she and Lotte became good friends and laughed away any lingering pique about that Profile.
Lotte was exhausted and ill when she sailed from New York on the Paris. She longed for a little rest. After three days in Paris, she reveled in Riviera sunshine for a week. Then one disappointing rainy day in Venice and back to work in Vienna. A lieder recital with Bruno Walter. Tosca and Elsa. A lady in the audience turned to the correspondent for a New York paper and asked: "Is it possible that they have criticized Lotte Lehmann's Tosca in America?" Such blasphemy seemed unthinkable to the Viennese.  London for Elsa and Sieglinde. A concert in Milan with Mitropoulos. Then back to Vienna for Otello, with Victor de Sabata, and, on June 20, 21, and 22, a remarkable recording: Act I of Die Walküre and the Siegmund-Sieglinde scenes from Act II, with Melchior and List under the inspired direction of Bruno Walter. Act I was released in due course, and made history. It has often been reissued and never been surpassed.
Act II has a strange story. As finally released, it features two conductors, two orchestras, two Wotans, and two Brünnhildes. Apparently the singers who had contracts for the Wotan, Brünnhilde, and Fricka were denied permission to leave Germany to come to Austria because of the political situation in 1935. Since September of 1934, Lotte Lehmann was forbidden to sing in Germany. The theatres and the agents had all been notified that her presence was unerwünscht [undesirable]. Bruno Walter, a Jew, could not conduct in Germany. There were two halves of a cast, both under contract, on opposite sides of an uncrossable border. Rather than scrap a magnificent start, it was decided to engage Alfred Jerger and Ella Flesch to sing the Wotan and Brünnhilde, respectively, in the last few pages of the act (twenty bars for him, only five for her), so that all of Sieglinde's scenes, at least, would be complete while Lehmann was available and in her prime. The rest of Act II was recorded more than three years later, in September 1938, in Berlin, with Hans Hotter who was on his way to becoming the greatest Wotan of his generation, Margarete Klose, a magnificent Fricka, and Marta Fuchs as Brünnhilde. The orchestra of the Berlin State Opera was conducted by Bruno Seidler-Winkler.
In My Many Lives, Lotte interrupts her discussion of the second act of Die Walküre to recall the reproach of a visiting duke:
Only once in her sleep does Sieglinde stir, but without really waking. When Brünnhilde with mounting intensity explains to the defiant Siegmund that even his sword cannot help him since Wotan has withdrawn its magic power, Sieglinde raises herself as if in anxiety, but is immediately soothed through Siegmund's gentle protection and returns to sleep encircled in his arms.
I must mention here a very amusing incident: at one performance the Vienna Opera had as its honored guest the reigning head of a duchy, and after the performance the duke came to us in the dressing-room to tell us of his appreciation. With excitement I waited to hear what the distinguished visitor would say to me. But he only looked at me with a smile as if he wanted to say: "I caught you"—and shaking his finger menacingly he said word for word: "I watched you in the second act when you sat with your head resting on the gentleman's knee, to see if you would move… It was very good but you wriggled once…." I was absolutely speechless and completely overcome by this deep tribute to my performance as Sieglinde!
Bruno Walter had wanted Lotte for the title role in Gluck's Iphigenie in Aulis at Salzburg. It had already been announced. But Lotte wanted to save all her concentration and strength for Fidelio, her first opera with Toscanini. She begged off. Walter reluctantly canceled the production.
Toscanini's letters, a year later, are just as ardent as they were when he and Lotte started their affair:
I have gone to Piazze… My shoulder and my arm need rest and care….Don't forget me, Lotte darling. And think and know always that you are the only woman who is in my heart—the only woman that I love—the only woman who can make me relive the sweetest, most voluptuous moments….who knows how to make me young again!!!… I want you for me alone—do you understand?…
Evidently Lotte had reproached him for not writing more often. He attempted to convince her that her place in his heart was secure. But it seems that he, too, craved some reassurance.
I am desolate. Another very short and very sad letter from London. Why, darling, can't you understand that I can love you—not forget you for a single moment—and still be stingy with my writing? You are a graphomaniac. You have the talent for writing—I, no!!! But my heart is good, sensitive, sincere, and in love with you [underlined twice!]… Yes!! In your letters you give me a joy I can't even express in words….Is it true, what you say? Is it true, Lotte? "My mouth belongs to you alone, I kiss no one as I kiss you." You do not say all that just to make me proud—happy—to make me smile with joy…
You will be in Milan the evening of the 24th. And I on the train the whole night. It will be impossible to see you… But possible to suffer!
Lotte darling, be reasonable — don't write me any more letters like the last ones. Kisses—caresses—everywhere
Your Maestro
Lotte still felt insecure. Again he tried to reassure her:
Next Wednesday I shall be in Salzburg….I arrive alone!!! I am going for two days to the Hotel Europe. Where will I be able to see you?? Will you send me two words at the hotel? Not for the moment do I love you—always I love you—even when I do not write to you….
My arm is not doing well—the "cure" did nothing. Poor maestro!! You will see, when I start to work.
I am never cold with you—one cannot be!!! No one can resist your voice when you sing—your mouth when you give your kisses—your body when you surrender to voluptuous feelings!!!…
I am sorry for Walter that you gave up Iphigenia… but for you I believe that is the best… You have worked too much… And poor Mayr? What a tragedy!
Lotte's beloved colleague and friend, Richard Mayr, was dying. His last, lingering illness cast a shadow over an otherwise brilliant season at Salzburg. Three deaths that year affected Lotte deeply: Alfred Roller, the great designer of Der Rosenkavalier and Die Frau ohne Schatten, died in May; Marie Gutheil-Schoder, once one of Lotte's idols, died in October; and Richard Mayr, the incomparable Baron Ochs of their Rosenkavalier recording, died in December.
One of Lotte's summer projects seems to have fallen through: she had planned to make a movie. It was to be the story of an opera star who tries in vain to give up her career for the sake of home and family. It would be filmed in Austria. The English version of the title was Farewell to Fame. What happened? Perhaps Toscanini insisted upon earlier rehearsals at Salzburg. Perhaps Lotte was disappointed with her screen tests. Perhaps Vienna had welcomed her back with too many Marillenknödel—topped with whipped cream.
At Salzburg the sensation once again was Toscanini. This summer, for the first time, he conducted opera there. For him, "conducting" meant staging as well. He acted out all the rôles, showed the singers their gestures and facial expressions. Everything came out of the music, as it must in an ideal performance. The stage directors seem not to have resented this invasion of their territory, since the results were so spectacularly successful that everyone involved in the productions could bask in reflected glory.
First came Falstaff, hailed as a revelation by the musical world. The whole production was considered to be about as near to perfection as mortals can aspire.
Then Fidelio. Toscanini and Lehmann set Salzburg on fire. Lotte's Fidelio had already come to seem as much a part of Salzburg as the cathedral or the castle. She had sung the role there every summer but one since 1927, under Schalk, Krauss, and Strauss. But with Toscanini everything seemed to be reborn.
Here, from My Many Lives, is Lotte's recollection:
Toscanini? He made Fidelio flame through his own fire. There was thunder and lightning in his conducting—his glowing temperament, like a flow of lava, tore everything with it in its surging flood. I shall never forget the wave of intoxicated enthusiasm which broke from the Salzburg audience after the third Leonore Overture [played between the dungeon scene and the finale]. There was something almost frightening in the storm—but the maestro let it break over him with his characteristic look of helplessness. It was as if he were saying: "You should honor not me but Beethoven."
I was always exhausted after the terrific strain of the prison scene and at first paid no attention to the music, but just sat waiting in the wings, grateful for a moment of rest after such drama. But the fire which flamed from the conductor's stand out to the remotest corners of the house always tore me out of my exhaustion. Even behind the scenes we all joined in shouting enthusiastic "bravos."
Vincent Sheean, among others, has left us some eloquent eyewitness testimony:
Fame alone, or public recognition, never swayed Toscanini in his choice of a leading artist for any great work. On the contrary, he frequently delighted in excavating artists hitherto unknown and showing what they could do….In the case of Lehmann he was swayed not by her fame as Leonore but by his own ardent admiration, which on one occasion, I was told, led him to declare at the end of a difficult passage in rehearsal: "You are the greatest artist in the world."
Well, she was. The sheer ecstasy which she and Toscanini between them got into certain passages of Fidelio could not otherwise have come into being….There was an element in this Fidelio at Salzburg which defies technical definition. It was not perfect—not as, for example, Falstaff was perfect or nearly so—because in this Fidelio there were singers who were not physically able to reach the exalted mood in which Lehmann and Toscanini performed. The incandescence of the conductor and the soprano produced the very curious effect of making one pass over these imperfections almost without noticing them….
The central soprano part has long been reserved, in Germany anyhow, for those mammoth voices which otherwise sing only Brünnhilde and Isolde. The general idea is that unless a woman has a voice suitable for a fire engine she cannot sing the part of the faithful wife. I am sure Beethoven had no such notion, and Lehmann supplied the proof—if it were needed—that a richly human voice, warm and full, has far more to offer in this music than any hochdramatische goddess….Lehmann was not a sylph in 1935, but her appearance in that ungrateful costume was more convincing than any other I remember, and every note of her voice conveyed the meaning of the part….Blaze is the word that comes to mind most often in thinking of this collaboration between Lehmann and Toscanini. They seemed to take fire from each other; the resulting conflagration warmed all of us for as long as memory can last….
By this time, Lotte was finding the highest notes harder to reach. For her sake, Toscanini transposed the aria. A shockwave coursed through the musical world. Toscanini, the stickler for exactitude, for utter faithfulness to the composer's conception, Maestro Come Scritto in person, allowed a transposition?! The purists were scandalized. Horrified. Everything but speechless. Actually, as anyone can hear who follows Toscanini's recording of La traviata (for instance) with a score, the maestro often departed from the printed page. It was utter faithfulness to the composer's intention, rather than to the i-dots and fly-specks, that mattered to him so intensely. It is interesting to note that the great recitative, "Abscheulicher! wo eilst du hin?" began in the original key; Toscanini wanted to keep the phrase about the rainbow in C major. The transposition started in the phrase, "der spiegelt alte Zeiten wieder," the singer's F sharp becoming F natural, at which point the accompaniment simply dropped a half-tone (the harmony of the preceding bar was changed from E minor to C minor for a smoother transition). That was not the only surprise. At the very end of the aria, Lotte startled everyone with a mini-cadenza that no one ever remembered having heard before; after what was now the high B flat, Toscanini asked her to sing the little notes, marked ad libitum in the score, that take the voice up to a second fermata on A (flat). Authentic, and—as Lehmann sang it—very effective; but absolutely untraditional.
There exists a recording, taken off the air from a short-wave broadcast of the Toscanini-Lehmann Salzburg performance of Fidelio. It runs from the beginning of the overture to the end of her aria. The sound quality is horrible, full of static and interference, but the atmosphere of a marvelously exciting performance manages to penetrate the thick curtain of extraneous noise. Lehmann's spoken dialogue, where it can be heard, is fully as fascinating as her singing.
During the rehearsal period, Toscanini wrote out for Lotte a description (in French) of how Maria Malibran had played the opening scene a century before:
For Fidelio…
According to the report of contemporaries, Malibran made out of Leonore's first entrance something profoundly moving. She admirably gave the impression of a being morally and physically broken by sorrow and waiting.
Her face ravaged, she appeared at the door of the prison, crushed by the weight of the chains and the provisions, out of breath, supporting herself against the wall, mute, answering Rocco's questions with effort; and when, afterwards, her voice entered into the canon-quartet, it was less a song than a succession of sighs, as if there were no more in life for her than suffering….
Besides four Fidelios with Toscanini, Lotte sang the Marschallin in three Rosenkavaliers, conducted by Josef Krips, opposite three different Octavians. The Sänger was a young American, Charles Kullman, who had a fine success at Salzburg, also in Così fan tutte and Die Entführung aus dem Serail, and later joined Lotte at the Met. There was again a lieder recital with Bruno Walter.
After Salzburg, came Vienna and Prague.
On October 9, 1935, Lotte sailed on the Ile de France with a larger entourage than usual. Two maids, Resi and Marie, and a dog, Mohrle II. Marie and Mohrle had been inherited from her mother. Lotte had decided to make a new home in New York.
Her season started with a recording session, her first in America, for Victor, a recital of lieder by Mozart, Schubert, Schumann, Brahms, and Wolf, accompanied by Ernö Balogh.
After a recital in Toronto and a concert with the Boston Symphony, Lotte was scheduled for two performances of Rosenkavalier with the Cleveland Orchestra. The demand for tickets was so great that a third performance had to be added.
After Cleveland, there were four more Marschallins and a pair of Elsas in Chicago. Once again Chicago announcements promised undelivered sensations; Lehmann and Jeritza were to sing together in Rosenkavalier. One—or both—of the divas decided against that. Grete Stückgold was the Octavian of the actual performances.
While in Chicago, Lotte acquired a new dog, a Pomeranian like her Mohrle. Since he was an "American," and from Chicago, she named him "Jimmy the Gangster." He later made his debut at the Chicago Civic Opera House, carried on stage by the Animal Vendor in the levée scene from Act I of Der Rosenkavalier. After a while his American name was saved for formal occasions and the German nickname "Mausi" took its place.
Back in 1932, at Lotte's very first New York recital, she had been relieved to see a familiar face, that of Viola Westervelt, in the front row. Two rows behind Viola there was an unknown young woman who would later play a leading role in Lotte's life. Dr. Frances Holden, Assistant Professor of Psychology at New York University, was deeply enthralled, though less ostentatiously than Viola, whose ecstatic gesticulations during Lehmann's singing distracted and disturbed those who were sitting behind her. Dr. Holden was at work on a scholarly study of the psychology of genius. There before her, it seemed to her, stood the living embodiment of genius. From that day on, she made every effort to arrange her teaching schedule so that she could attend every possible Lehmann performance, in opera as in recital, in New York or out of town.
Lehmann gave her something precious she had never known before. In her gratitude, Dr. Holden sent welcoming flowers, without a card, to nearly every concert. But it was more than two years before she wrote to Lotte, to ask for information about her autobiography. It was still incomplete; but excerpts from the early part had already been printed in The New York Herald-Tribune. She did not try to meet Lotte. She wanted to study Lehmann the artist, not Lotte the woman.
The artist, however, was not so easily separated from the woman. Lotte was always curious to meet her especially devoted fans. Her first letter to Frances was to thank her for flowers; then, in the letter quoted earlier in this chapter, for kind words about her Tosca at the Met. A third letter brought them closer together, though they had not yet met. Lotte had heard, through another fan, that Frances had lost her mother. Here are her touching words of condolence (originally in German):
Dear Miss Holden — to my sincere thanks for the welcoming greeting of your lovely flowers I must add today the expression of my heartfelt sympathy….Please believe me that I sincerely and warmly share what you are feeling. Just two years ago today I lost my beloved mother—I know how hard that is, and how infinitely sad you must be now.
In our lives we go through many dark hours—and one of the most painful and fateful is when we have to bury our mother. That is no empty figure of speech! With her death I lost the feeling of "home." And even if time heals all wounds, that scar will never stop hurting….
Finally Lotte decided to invite Frances to Thanksgiving dinner. It was a rather Austrian version of Thanksgiving. The turkey was served already cut in little slices, swimming in some exotic sauce. The table conversation was in German, too fast to follow. Lotte found Frances a bore. Frances was appalled that a high priestess of song could laugh at an off-color joke. The occasion was no overwhelming success. But from such an inauspicious beginning a unique and beautiful friendship was born.
Just before Christmas, Lotte went to Detroit to sing on the General Motors radio hour. She was met at the station by a welcoming committee in Austrian Dirndls and a life-sized gingerbread Santa Claus. For the return trip she booked him an upper berth.
Back in New York, Lotte gave a Christmas party of her own. Every guest received a gift. There were two critics present. One got a pot of honey and a pen, the other a pair of rose-colored glasses.
There was a new general manager at the Metropolitan Opera. Edward Johnson gave up his position as one of the leading tenors of the company to take over the directorship when Herbert Witherspoon, the designated successor to Giulio Gatti-Casazza, suddenly dropped dead before his first season had started. New contracts had to be negotiated. The "big four," as Ponselle, Pons, Lehmann, and Tibbett were called by the press, were hold-outs at first; Johnson, roundly scolded for risking the loss of such important artists, soon charmed them back into the fold.
Lotte's new season with the Met started out of town, with Tosca in Philadelphia. There were only four performances in New York, one each of Elsa and Tosca, two of Elisabeth, with one more on tour in Boston. Der Rosenkavalier, such a success the previous season, was not given at all. Flagstad sang Fidelio. Kappel and Rethberg shared Sieglinde; Rethberg and Fleisher sang Eva. As usual, there were a number of concerts and recitals, some as far away as Seattle and Los Angeles.
Lotte, Otto, Resi, Marie, Mohrle, and Jimmy sailed to Europe on the S.S. Paris, with many trunks and bags and some liquid gifts from Constance Hope, with whom Lotte shared the following glimpse into life on board in the Lehmann cabin:
Once again you spoil us with the wonderful drinks which we enjoyed for dinner….Otherwise the trip is miserable….Resi and Marie are both laid low, but Otto is a sea hero….It's all the same for Mohrle; he goes brightly for his morning walk and looks in vain for his beloved squirrels. Jimmy is so afraid that he has practically stopped eating….At the moment both dogs are on my bed, surrounded with miscellaneous toys, a lamb bone, and a piece of cheese; and surrounding the prima donna. When the ship rocks too much, Mohrle gets up and growls, which doesn't help a bit.
Lotte was busily writing a novel. She named it Orplid mein Land, after part of the opening line of "Gesang Weylas," Hugo Wolf's setting of a poem by Eduard Mörike. It began as the story of a pair of twin sisters, one a world-famous dancer, the other a small-town gym teacher. It is set in all the glamorous places Lotte knew so well. She describes to Constance work in progress:
My novel is coming along very well. I have rewritten all of the first part and I think it is pretty good. I myself am curious to see how the ending will work out….I find that my plot is taking a completely different turn from what I'd planned. It is going to be quite long—about 28,000 words—and I still don't see the end in sight. I have just given birth to a dollar-millionaire and to a completely mad opera singer. What am I to do with the whole crazy cast of characters? There is plenty of love in this novel. There is one lone virgin in it, but I must in the end make up for this sad state of affairs. I am at the moment hunting for a suitable betrayer….
For the first time since 1924, Lotte missed a Covent Garden season. But to compensate her fans in London, she did give a recital at Queen's Hall on April 28, 1936. The Daily Telegraph wrote perceptively:
So exquisite and so poignant can her voice be that at times a single note sufficed to enhance the effect of a whole song. The whole of Brahms's "Der Tod, das ist die kühle Nacht" was excellent, but the ravishing softness of its last phrase sealed the success of that performance and made one wonder where and by whom it could ever be equaled.
In Vienna a gang of Nazi rowdies threw stink-pots around at a performance of Tristan und Isolde conducted by Bruno Walter at the opera house. He refused to give them the satisfaction of having disrupted the performance, and kept on conducting. The singers became hoarse from inhaling the fumes, but gallantly carried on to the end. Although that disturbance was part of an organized demonstration at all the theatres in Vienna, and not meant for Walter specifically, he received several death-threats before a Philharmonic concert he was scheduled to conduct. He still looked upon Salzburg as a last refuge for the finest in German culture.
Besides Fidelio and Falstaff, Toscanini was to conduct Die Meistersinger, with Lotte as Eva, in the Salzburg Festival of 1936. Something about the way the festival was run must have upset him enough for him to threaten to withdraw. Bruno Walter wrote him an urgent letter:
I can no longer imagine Salzburg without you. Salzburg needs you, we all need you….Salzburg is perhaps the last non-political place where art still has a roof over its head. Do not leave this place….
Toscanini relented.
Troubles started soon enough, however. The maestro and Friedrich Schorr, the world's most admired Hans Sachs, had incompatible interpretations. Schorr, of course, would have to go. It was announced that he was "ill." Jerger was suggested, but Toscanini found him lacking in "bonhommie." Some genius of diplomacy managed somehow to wangle permission out of Nazi Germany for Hans Hermann Nissen to come from Munich and save the day. Then Lotte became ill (without quotation marks). She wrote to Constance on August 6:
I have a fearful cold, and had to cancel Fidelio yesterday [Anny Konetzni sang instead], so that I would be sure to be able to do the Meistersinger opening on Friday [August 8], so eagerly awaited. I'm still feeling pretty miserable, and we are having rehearsals till I almost lose consciousness. The Maestro has been very kind to me.
There were problems, too, as well as troubles. The stage was so small and so shallow. Yet the second act calls for a street in sixteenth-century Nürnberg, with the entire cast and chorus on stage near the end, in the famous Prügelszene [cudgel-riot]. Furthermore, Toscanini had insisted upon a particularly big chorus. Herbert Graf, the stage director, literally "rose" to the challenge; since there was neither depth nor breadth available, he used, with great ingenuity, many levels in the vertical dimension.
As usual, Toscanini demanded—and got—unlimited rehearsal time. Lotte tells what that was like:
I will never forget the nerve-shattering rehearsals which brought us all to a point of desperation, for the much-feared maestro was never really satisfied with anything…. Instead of venting his displeasure through one of his well-known tempests, before which everyone trembled, and which we awaited with a horrible inner tenseness, he wrapped himself in an icy silence and just looked at us sadly and scornfully. If we hadn't been good this certainly didn't make us better…. We began to stumble over the simplest phrases, exchanged glances of despair, and would have welcomed any display of temper…. Finally I mustered up my courage and approached the fuming lion. "Maestro," I said, "won't you please tell us what crime we have committed? We want to do everything you want, but won't you please tell us what you want?"
He looked up at me with the eyes of a dying faun and said: "There is no fire…."
Deep breath….Fire….All right…let us forget that it is the much-feared maestro before whom we are singing. Let us forget that we must be exact to the finest detail…. Let us forget that any and every mistake is a deadly sin. Let us just be normal human beings, who are not without faults, like this genius—then the fire will blaze which had been dampened through our fear…. Then Toscanini showed us his wonderful smile….And whoever in that ensemble had no real fire was actually kindled through his glowing flame…. I remember the dress rehearsal of Meistersinger—that very special rehearsal, for I don't believe that there was in the actual performance the frenzied intoxication of this unique rehearsal….
I myself was quite delirious…. I rushed into the maestro's room without knocking and found him scantily dressed—or rather undressed—and wasn't the least disturbed, much to the horror of Emilio, his chauffeur and general factotum…. I embraced him in tears and could only stammer: "Thank you, Maestro…."
The mention of Emilio calls an anecdote to mind. Lotte's chauffeur tried all summer to convince her that she needed a new car. As a matter of fact, there was nothing wrong with the old one. It turned out that he had just wanted to impress Toscanini's Emilio.
The Austrian and German governments had planned an exchange of broadcasts: Salzburg to Germany, Bayreuth to Austria. But Bruno Walter's performances were not to be included in the deal, since the Nazis would not profane their Aryan air with any Jewish music-making. When Toscanini heard that, he threatened to leave Salzburg if even a single performance were broadcast to Germany.
The Meistersinger performances were a magnificent success. Toscanini, Graf, and Lehmann won the major laurels.
In Publicity is Broccoli, Constance Hope recalled her first summer in Salzburg with Lotte:
It was in Salzburg that I first saw a little one-act drama which I have since come to know rather well. It is called "The Disappearing Diva."
The most modest of musicians, Lotte never seems to realize that she is a great artist with a world-wide reputation. Any important appearance at the Festival made her wonder whether she was worthy of the great honor. It would happen when she was singing with Toscanini, or when she wasn't singing with Toscanini. A first performance of an opera could bring it on, the yearly joint recital with Bruno Walter accompanying at the piano, an important radio date—in short, any public appearance which meant a great deal to her.
The week before the concert Lotte usually spent working herself up by gradual stages to a frenzy of nervousness. She would fret incessantly about whether she was likely to be in good voice, whether she was sure of her part, whether Toscanini or Walter might not be disappointed by her performance.
Then, the night before, lugubriously she would go to the piano, run a couple of arpeggios in a discouraged way, and exclaim in tones of deepest despair: "It's no use. I can't sing. The concert will have to be canceled."
Meanwhile her husband would be sitting with his inevitable cigarettes and bottle of red wine. Otto, who knew her voice like the palm of his hand, would listen a moment, nod wisely and say: "It's all right. She'll sing." Then Ernö Balogh and I knew it was our cue to keep close to Lotte, who by now had a large map of Europe and was poring over it to see whom she could get to take her place on short notice. "Grossbein is in Munich," she would be muttering; "she could fly here in time for the performance. Or maybe Langerhals from Vienna." Like the good sport that she was, Lotte, deciding that she couldn't sing herself, would be all for hiring a substitute on the spot, preparing to lend her her own clothes in order not to leave the manager in an awkward fix.
By main force we would hold Lotte back from the telephone, reminding her that the manager would probably have his own ideas about a substitute. We'd call next morning at nine o'clock, we said. Then there would be plenty of time to make the arrangements and get corrections in the papers.
Next morning we would say, "Well, it's a quarter past nine; suppose we phone the manager and cancel?" So we would get the operator and put in the call, which, thanks to the easy-going Austrian method of communications, meant we were safe for at least half an hour. Meanwhile Lotte would go to the piano and try a few scales. Then she would look surprised and say, "You know, I thing maybe I can sing."
Then to see Lehmann's joyous entrance as Elisabeth in Tannhäuser the next evening and hear her rapturous greeting to the Hall of Song, it was hard to believe that she played the leading role in "The Disappearing Diva" the night before. Indeed it would be forgotten until the next time she sang with Toscanini or with Walter or at New York's Town Hall or at the Metropolitan. The answer is that when she steps on the stage in Tannhäuser she is no longer Lotte Lehmann—she is Elisabeth. Each Lehmann characterization is convincing because Lehmann projects herself into the mood of the character, rather than learning the stage business by rote. In fact, she is so completely in character that she neither is nor wants to be conscious of the physical details of her interpretations.
Some years ago I met a prompter who had worked with Lehmann…. He related that once before a performance of Die Frau ohne Schatten he told Lehmann how at every performance he waited for a certain pleading gesture with which she began the reconciliation scene. Lehmann tried to analyze it in order to make it a conscious part of her interpretation. She abandoned the gesture in performances thereafter for she realized that with spontaneity gone it was no longer a sincere expression of her emotion. Lehmann realizes that an audience is quick to resent a gesture which is superimposed.
She is highly sensitive to the moods of an audience. The moment she steps on the stage, she senses whether it is a cold house which must be wooed, coaxed, cajoled and enticed into a receptive mood, or whether it is hers for the taking.
Near the end of Midway in My Song, Lotte captured the atmosphere of that season in Salzburg. She had just mentioned Toscanini's contribution to plans for a new, larger Festival House:
Originally the performances were conceived on a much smaller scale, but every year the great world comes in increasing numbers to the little Mozart town. Sophisticated "peasant girls" in genuine peasant costumes, elegant men in Salzburg leather shorts and green Tyrolean jackets crowd the narrow streets and make bright waves of color on the bridge, festively resplendent with its decorations of gay flags. In the evenings the sight of huge magnificent cars from every country rolling up is already a commonplace event. Everywhere you hear a Babylonian medley of tongues. People are blissfully happy if they see Max Reinhardt going by—or Bruno Walter—or the Maestro. In the Café Bazar, world celebrities rub shoulders with wealthy globe-trotters—and even Marlene Dietrich scarcely attracts any special attention—so great is the choice of "notabilities." But the person who was proudest of his popularity was my chauffeur Fritz, when his picture appeared one day in the papers with Toscanini's Emilio, and the inscription: "Two other notabilities."
In 1936 the first Mrs. Otto Krause died. Lotte suddenly inherited four rather grown-up stepchildren, aged 17 to 21. There were three boys and a girl. Lotte called them "her four-leafed clover."
She prepared to play the role of a mother.