This page is devoted to the Filipino composer and bassist, Angel Peña. He passed away 22 December 2014.
When I arrived in Manila to teach bass in 1966, Angel and his family were in Hong Kong, where he was playing in jazz groups. He did me the signal honor of returning to study with me.
During that year he devotedly studied classical double bass and shortly after I left, auditioned for the Honolulu Symphony Orchestra, winning a permanent position in that orchestra. When I joined the HSO in 1983 he was still there and it was a pleasure to be reunited with this former "student," now colleague. We remained close throughout those years, until he left Honolulu.
He wrote many wonderful pieces for bass and this is your chance to hear them.
I performed the following Angel Peña works on a recital I gave at the University of Hawaii's Orvis Auditorium. It was dedicated to Mr. Peña. Marion McKay is the pianist.
Here is the First Sonata, written in 1970.
Pena/FirstSonata/1stMvt (Grave/Legiero)
Pena/FirstSonata/2ndMvt (Adagio)
Pena/FirstSonata/3rdMvt (Allegretto/Legiero)
The Concerto (played on that same recital) was written while I was still in Manila (1967).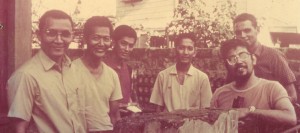 Pena/Concerto/1stMvt (Allegro Moderato/Animato)
Pena/Concerto/2ndMvt (Adagio)
Pena/Concerto/3rdMvt (Allegro)
The old color photo shows Angel (left), as we visited luthiers (one next to Angel and the other next to me. The man in the middle is probably another student of mine, Peping Calderon Jr. In front of me is another "student" (a very advanced player, like Angel) Johnny Gosalvez.
Mr. Peña wrote the second sonata in 1992, with an alternate orchestra accompaniment. This means, it can also be played as a concerto. The following performance is from the Orvis Auditorium recital that Marion and I played.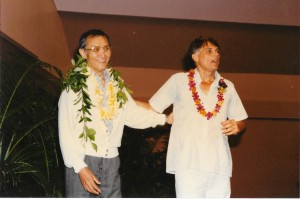 Pena/2ndSonata/1stMvt (Andante)
Pena/2ndSonata/2ndMvt (Elegy, Poco Adagio)
Pena/2ndSonata/3rdMvt (Vivace)
Angel wrote the Trio (Suite for Three Double Basses) for specific performers. That explains the subtitle: A-G-E (Angel, Gary, Ed). But in this case, Mark Kuraya, Tracy Rosenkranz and I played it. The photo of Angel and me was taken at the Orvis Auditorium recital dedicated to Mr. Peña and some of his beautiful bass music. The occasion was his announced intention to leave Hawaii.
Pena/Trio/1stMvt (Andante)
Pena/Trio/2ndMvt (Promenade)
Pena/Trio/3rdMvt (Bolero:Allegro Moderato)
Pena/Trio4thMvt (Buffo:Moderato)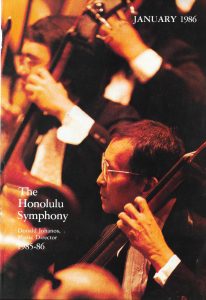 Luckily, I have a copy of Mr. Peña's own performance of his concerto with the Manila Symphony Orchestra.
Angel Plays His Concerto/1stMvt
Angel Plays His Concerto/2ndMvt
Angel Plays His Concerto/3rdMvt
And finally, here is Mr. Peña playing his Concerto with piano accompaniment, strangely missing just the ending.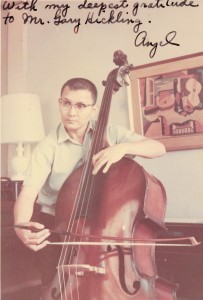 Angel Plays Peña Concerto/1stMvt/PianoAcc.