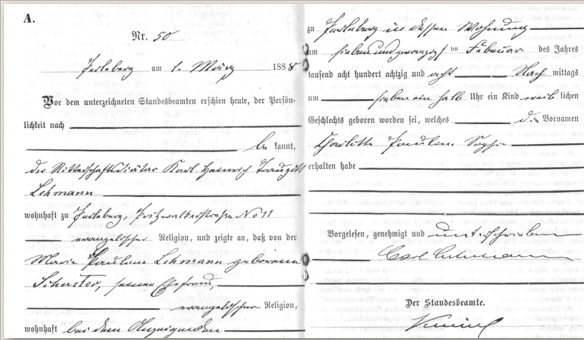 A German realization and an English translation of the birth certificate follows.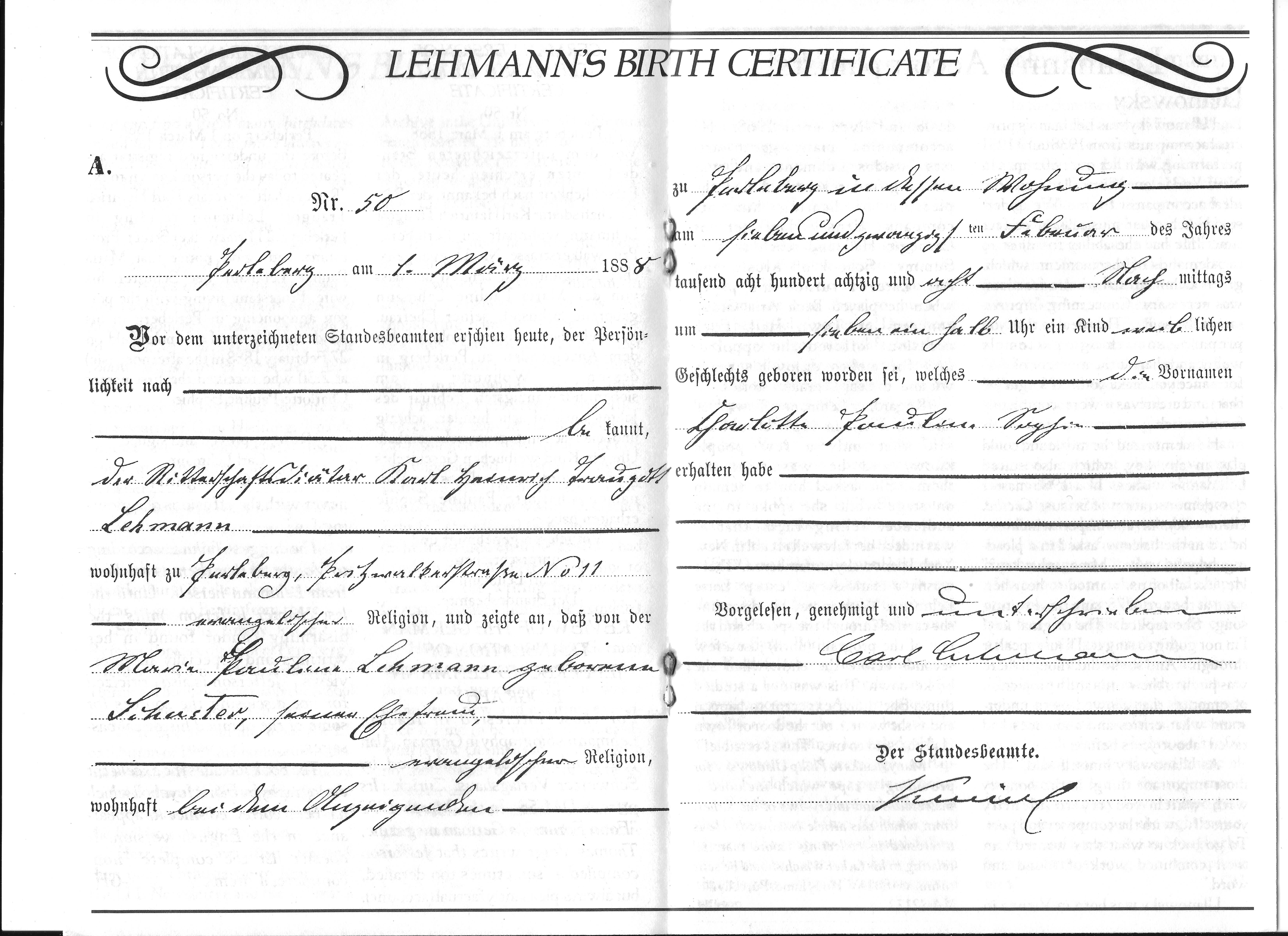 GERMAN VERSION OF LEHMANN'S BIRTH CERTIFICATE
Nr. 50
Perleberg am 1. Marz 1888
Vor dem unterzeichneten Standesbeamten erschien heute, der Persönlichkeit nach bekannt, der Ritterschaftsdiätar Karl Heinrich Traugott Lehmann wohnhaft zu Perleberg, Pritzwalkerstrasse Nr. 11 evangelischer Religion, und zeigten an, dass von der Maria Pauline Lehmann geborene Schuster, seiner Ehefrau, evangeischer Religion, wohnhaft bei dem Anzeigenden zu Perleberg in dessen Wohnung am siebenundzwanzigsten Februar des Jahres tausend acht hundert achtzig und acht Nachmittags um siebeneinhalb Uhr ein Kind weiblichen Geschlechts geboren worden sei, welches den Vornamen Charlotte Pauline Sophie erhalten habe
Vorgelesen genehmigt und
unterschrieben
Carl Lehmann
Der Standesbeamte.
ENGLISH TRANSLATION OF LEHMANN'S BIRTH CERTIFICATE
No. 50
Perleberg on 1 March 1888
Before the undersigned registrar appeared today the person known to me "Ritterschaft" secretary Karl Heinrich Traugott Lehmann residing in Perleberg, 11 Pritzwalker Street, Protestant, and gave notice that Maria Pauline Lehmann née Schuster, his wife, Protestant, living with the person announcing in Perleberg in his residence delivered a female child on 27 February 1888 in the afternoon (sic) at 7:30 who received the first names Charlotte Pauline Sophie
Read, approved and signed
Carl Lehmann
The City Registrar