This is a memorial and/or tribute page to my high school orchestra and band conductor. My time at Glendale High School was especially important to me for the musical experiences that Mr. Balzer provided. I have begun a page of photos. Please send in what you have!  I'm also adding our LP recordings of some of the music listed below. Enjoy! In spite of the intonation flaws, and a few train wrecks (remember these recordings were "live" concert performances with no editing) there's always good spirit and, thanks to Balzer, musicality. (In the Calipso Carnival below, you'll even hear Balzer's voice, shouting [appropriately] "tequila!")
Many instrumentalists from those groups went on to important careers in music. I'm attempting to get in touch with them, and so far have a few responses which I provide below.
At the bottom of the page I list the repertoire that we played in the 1950s. They are works that I'm proud to have played.  The music we performed and, in particular, Mr. Balzer, put me on my path of music. We also played dance band music, usually arranged by Mr. Balzer. Here are examples from an undated yellow 33 1/3 rpm 8 inch disc. Bailey, Won't You Come Home/Cinammon Kisses and Solid Blue. Here are the names of the players in the 1961 dance band below: Gary Hickling, bass; Lee Breitbarth, drums; Steve Hunt, trombone; lower right: Bob Stewart, middle: Bob Maline, left: David Shostac, saxes; Jack Collier, piano.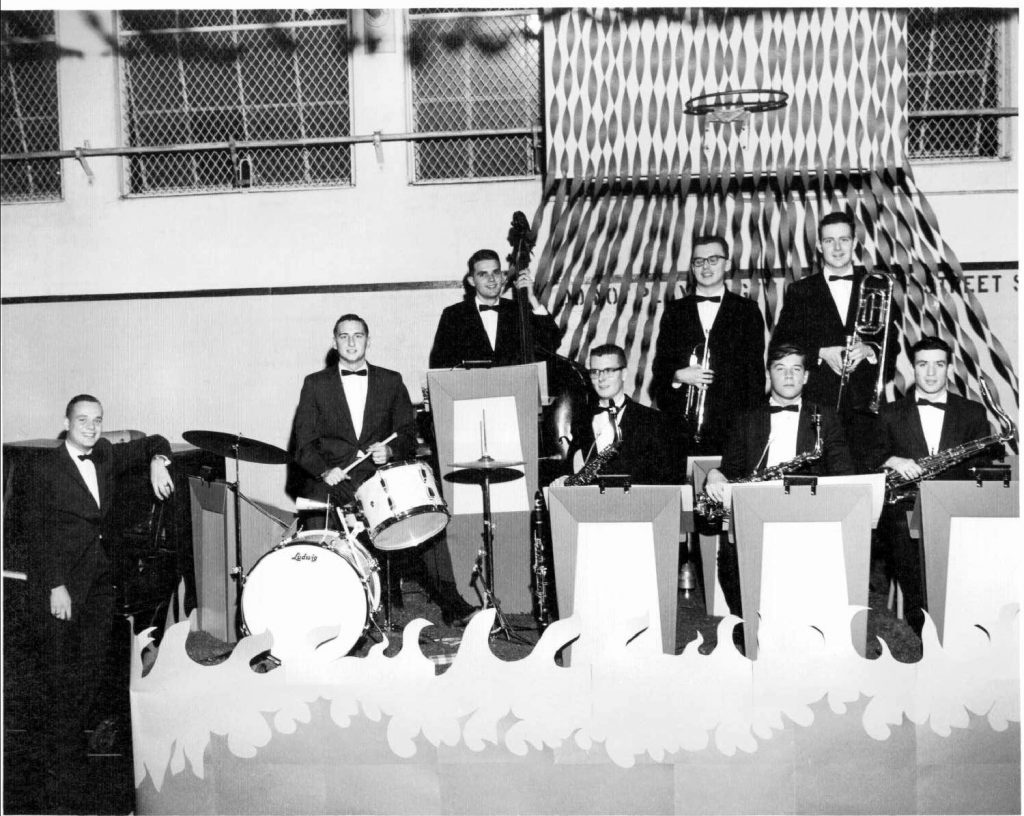 Emilio (Milo) Delgado, 
Glendale High Class of '59, recently wrote: I did very much want to contribute something about Mr. Balzer because I remember him fondly and so vividly.
I remember Mr. Balzer one day during Symphony Orchestra practice, urgently tapping his baton and pleading with us, "Don't just read the notes; play the music!"
                    Huh#*!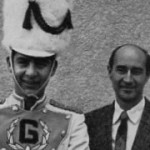 It wasn't until much later that I began to understand the profound implications of that puzzling remark. I asked myself, "Are the notes one thing and the music another? "Yes pendejo!" came the answer, "The notes are your 'map', but your depth of feeling and unique interpretation are what bring the piece to life! Go beyond the notes and release the music!"
                     EUREKA!
I remember Bud's dedication and seriousness of purpose and lurking mischievously underneath, a hearty sense of humor. I never hung out with Bud; never went to his home or met his family but I remember him as a decent human being with a generous and accepting spirit who taught me to not only "read the notes", but to see beyond the obvious. His sage advice has served me well throughout my life.
                     Thank you Bud, you did good.
Richard Eastburn, who played principal trumpet in both band and orchestra, writes the following:
I think that he was the finest rehearsal technician that I ever played for ever.  It was just a gift.  I think that he had a genius IQ, perfect pitch and a photographic memory.  Unfortunately, he was a sailor and from time to time, talked like one. We never had much dialogue on a personal level. I came in played, departed, and he seemed to trust me. I did things musically that he trusted. But I didn't have the close personal relationship that he had with [Ron] Logan. I am sure that relationship went on far beyond 1956. I am sure that Ron can fill you in on more matters, and he probably has a recording of the 1956 Spring Concert [on which he played an arrangement of the Mendelssohn violin concerto on the trumpet].
Ron Logan, trumpet, (who went on to a great career with the Disney folks) sent the following:
"Bud" Balzar
– a very influential teacher for me
– always presented himself as a friend as well as a "mentor"
-a jazz fan, as was I. I played in his nitetime rehearsal band for several years after I graduated – was a way to "keep my hopes up" as a young L.A. musician
– I played jr. high "Sock Hops" with Bud. (He was a good tenor player, knew the standards, had a decent stock small "book")
-I kept in contact with Bud and Helen through the years–always invited him to my Jazz/Band concerts when I taught at Long Beach City College (12 years).
-He always enjoyed my introducing him to my L.B.C.C. audience.
-My brother Gary (sax) and sister Brenda (percussion) were also members of the Glendale H.S. Band.
-I did play a band version of the Mendelssohn Violin Concerto for my graduation in 1956 (on the football field – was really tough!)
-Bud introduced me to Kelly James and Dr. Clarence Sawhill at U.C.L.A. where I unltimately received my B.A./M.A. degrees.
This following memory by Jim Phypers, was sent to Barbara Park Blankenship, a bassist in the GHS Symphonettes etc.
It was wonderful to hear mention of Bud Balzer.  We had it soooo good then with you and Gary and Louise DeTullio and Emily Shockett — doubt he ever had a better group of kids.  The Concert Orchestra really sounded good.  I liked playing in the Concert Band, too, getting to play the more challenging violin parts on clarinet…. He was a heavy drinker — how heavy I am not sure.
I always stayed after school and waited till I could get a ride home with Bud.  He drove a most wonderful old Model-T Ford.  He had painted it green.  I will never forget those rides home with him.  He would always hit the nearest liquor store to buy some beer — holding the can between his legs and drinking surreptitiously as we slowly made our way up the hill to La Cresenta.  These rides continued throughout most of my years at Glendale High.
I was very fond of him, and he was very warm and open with me.  It was well known how much he hated the marching band.  He blew off steam more than once about how he dreaded having to march at those games.  He always showed up pretty drunk.  He confided in me once that he had studied at Julliard and very much wanted to be a concert pianist but "I was never good enough" he said.  I can remember that moment like it was yesterday.  There were tears in his eyes as he reached for another sip of his beer.  The depth of his pain about this was clearly very deep.  I feel sad to this day about what he told me.
About 15 years after graduating from Glendale High I called him on the phone while I was visiting my parents in Menlo Park.  I said "hello, this is Jim Phypers.  Do you remember me?"  He replied:  "Of course I remember you — the CLARINET VIRTUOSO!!". [Jim went on to play many ancient instruments related to the clarinet.] His speech was slurred and he was obviously three sheets to the wind.  A substantive conversation was not possible.  I told him that I had many fond memories of those years playing in the concert orchestra and band and riding home with him every night. He got very quiet and he didn't really reply that I can remember.  I finally said good bye, feeling very frustrated and sad.
Barbara asked me if I could remember any of the pieces we played in the Concert Orchestra.  I am very embarrassed to say that I can't — just one piece from the Concert Band, Ketelby's "In a Monastery Garden." Oh, it all comes flooding back to me.  I can remember playing many of these pieces now, reading this amazing list you have been able to reconstruct.  Good work!  We were soooo lucky to have been introduced to such an awesomely fine repertoire!!  Bud knew the literature so well!!!  Lucky kids we were to have him as our conductor!!
Fellow bassist and stand-partner Barbara Park Blankenship wrote recently:
The point was that we were playing real music, not just "educational" pieces. That gave us challenging goals and a more advanced kind of training. A surprisingly large number of us ended up as music professionals, and I'm certain that the ones who didn't are among the world's best audiences. [Barbara went on to sing opera, play viola and piano and many non-music careers.]
In the two years I was there, the repertoire included music from the sound track of "Victory at Sea" by Richard Rodgers and Robert Russell Bennett (I hated the piece), Copland's El Salon Mexico — we may also have done Rodeo the other year.  Probably a medley from The King and I. Oh, there was a slow romantic piece called "The Dream of Olwen."  Enesco's Romanian Rhapsody (It must have been a simplified version)  and Eine kleine Nachtmusik. It was a very good orchestra.
We played a medley from My Fair Lady;. Balzer let me conduct it one day in class, while he sat in the clarinet section. At one point I glanced his way and saw him gesturing me to conduct the other direction: I had everything reversed — beat 2 to my right and 4 to my left — as it looked when I sat in the orchestra.
One of my happiest recollections was that during the lame-duck week of each semester, when we had already played our concert and had nothing more to rehearse, he would sit at the piano with a lead sheet, playing pop tunes and letting us jam with him. I put that experience to good use earning money in a dance band in San Diego during my senior year.
Richard Slavett writes:
I had the pleasure to play in the GHS Band and Orchestra. Mr Balzer was my teacher. He also was my employee. Four eight years I lead my band called "Dick  Slavett and his Band" and Mr. Balzer played the Saxaphone and Clarinet.
Now, my (Gary Hickling) chance to weigh in on Mr. Balzer.
Though I was hired by him to play a few dance band kind of gigs while I was still in GHS, I never knew him well enough to call him "Bud." I was an untrained bassist. I never had a bass lesson (or for that matter a tuba lesson, but played sousaphone throughout high school and college!) and didn't understand the basics of music theory (keys, etc.). But I must have played better than the others, for when Barbara Park left, I became principal.
Quite aside from the playing aspect of my relationship with Mr. Balzer, was the fact that he allowed me to exercise leadership qualities that I didn't know I possessed. The first day in orchestra he needed a librarian and Barbara encouraged me to volunteer. Thereafter I managed the orchestra as well as being librarian. The school basses rattled with loose seams etc. I asked Mr. Balzer, if I could fix them. He always greeted my requests with a kind of smirk, like "why the heck not?" Anyway, I scavanged popsickle sticks from around the lunch room and used Elmers glue (bad, I know now) to hold the old instruments together. The list goes on. He put good music in front of us and I took it seriously, enjoyed it and music, especially classical music, became the joy of my life.
The inspiration for this Eldred Balzer tribute page is simply a way for me to thank him (and memorialize him) for heading me in the right direction.
After I'd studied music theory at UCLA (where, with Mr. Balzer's recommendation, I was able to join the band), I returned to GHS and met up with him. I told him how much I'd enjoyed playing in the "Symphonettes" and the other bands, but that I would have played much better, if I'd understood some theory. He got a bit defensive and said that there just wasn't time to teach anything like that. With the experience I've had, I know he was right. My brother Steve, played violin with Balzer for two more years after I left. Steve's dead, or I'd ask him for his memories. Though he wasn't into classical music then or later, I know he was proud of his time in the orchestra and was aware that we had a dedicated teacher. I have lots of other Balzer stories and will tell them later.
Here's some of the rep we played back in the late 50's. If you can add to the list, just contact me.
Orchestra:
Alleluia (Fantasy on the Alleluia), Gordon Jacob Alleluia
Andante and Scherzo, J. Edward Barat (arr. Remsen), trumpet solo, Richard Eastburn
Cello Concerto, Lalo (Beverly Lauridson, solo cello; played in many great orchestras, shifted to gamba and died in 1994)
Cello Concerto, Saint Saens (Lauridson)
Chorale and Finale: Die Meistersinger, Wagner
Concerto for Oboe and Strings, Corelli (arr. Barbirolli)
Eine kleine Nachtmusik, Mozart
El Salon Mexico, Copland
Fantasia on the Alleluia, Gordon Jacobs
Flute Concerto, Mozart  (Louise DiTulio, solo flute; went on to play in the LA Phil and studio orchestras, and a solo career that continues until the present) Mozart Flute Concerto
French Horn Concerto Op. 4, Strauss, (Ralph Pollock who is later listed with "Jeff Sturges and Universe" 1971)
Hary Janos (intermezzo?), Kodaly
Hopac, Moussorgsky
Horn Concerto III, Mozart
January February March, Don Gillis
Madrilenas: Adagio/Allegro; Bolero; Copla; Tirana, F.M. Torroba
Offenbach's Gaité Parisienne
Pavanne for a Dead Princess, Ravel
Prelude and Fugue in d, Handel
Psyche and Eros, Franck
Romanian Rhapsody, Enesco
Secret of Suzanne Overture, Wolf-Ferrari
Symphony #40, Mozart
Symphony # 2 (excerpt), Hanson Hanson Symphony
The Dream of Olwen, Charles Williams
Toccata, Frescobaldi
Victory at Sea, Rodgers/Bennett
Wedding Day at Troldhaugen, Grieg
Band:
Brass Aflame, John Cocovas
Calypso Holiday (Carnival?), Edward McLin Calypso Carnival
Cha Cha Cha, Glenn Osser
Dialogue for Four, J. Val. Hamm (included Dave Shochat)
Evocation, Franck
High Tor, Harry Zimmerman High Tor
In a Monestary Garden, Ketelby
Latinata, Bennette
March Heat Lighting, Bowles
March of the Steel Men, George Belsterling (we played this marching in the Rose Parade)
Navy Log March, Fred Steiner
Piece Heroique, Franck
Psalm for Band, Persichetti
Scherzo, Erickson
Scipio, Handel
Sea Portrait, Homer La Gassey Sea Portrait
Suite for Brass, Leonard Le Bow (see program for soloists, conducted by Jim Phypers)
Symphony for Band (Finale), Erickson
Symphony for Band (First and Fourth Movements), Persichetti
Tamerlane, Frank Erickson
The Sinfonians, Clifton Williams
Timpat, Robert Leist
Toccata for Band, Erickson Toccata-for-Band – fully edited
Tubby the Tuba, Kleinsinger
Twinkle Toes Ballet, Don Gillis
Wormwood Scrub March, Farnon Wormwood Scrub
Combined Band and Orch: Gigi, Loewe; King and I, R&H; My Fair Lady, Loewe