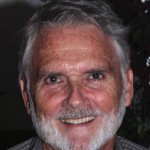 To listen to some Singing and other Sins programs, just click here.
In  October 2012 I celebrated the 89th birthday of Ned Rorem with a SaoS program which included his songs, instrumental works and a telephone interview. I sent him a CD of the program and he responded with this kind letter.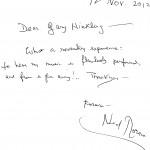 History of Singing and other Sins: In 1988 I initiated a weekly one-hour program of art songs called Great Songs broadcast on Hawaii Public Radio. It was (and remains) the only regularly-scheduled hour-long radio program of art songs in the world (as far as I can tell!).
In 2009 Dr. Maya Hoover, a voice professor at the Music Department of the University of Hawaii, Manoa, took over all aspects of the program. She has since been promoted at the University and has too many commitments to continue with Great Songs, so as of November 6, 2011 I took it over again.
After 22 years of essentially the same format (all songs), when I resumed Great Songs I called it "Singing and other Sins" (at the bottom of this page I discuss my reasoning  for the title) and though usually 50% of the program consists of art songs, it also includes non-art song recordings for context and variety.
This variety can include other vocal music from opera, cantata or oratorio; chamber music; solo instrumental with or without piano accompaniment; orchestral symphonic music.
So now when I request that a composer send me his/her recent recordings of art songs, I'll include a request for non-song compositions as well. (Yes, Virginia, there are wonderful art songs being written right now and all over the world!)
Further, on the HPR website I offer the original texts and translations, so that listeners can follow along with the songs.
I  also play the songs more than once, when possible. The listener can hear the same song with different singers, different genders and vocal ranges, different styles, and different eras of recordings. All this offers the listener a chance to become familiar with (and enjoy more) the beautiful songs.
There is a quiz on some programs. Listeners can respond with the answer by email, tweet (SingingSins), or Facebook. The winner has his/her name listed with the question/answer on the Master Musicologist page.
The title: Singing and other Sins
I thought I should provide some background on the new program: Singing and other Sins, especially the name.
Why "Singing and other Sins"? There are several reasons for the name change. When I began Great Songs in 1988, "song" meant something that was sung. Now, it can mean almost anything: an opera track, speaking or a movement from a symphony. Something that can be downloaded. So that's why the word "song" wasn't relevant any longer for a program featuring art song, which is indeed singing.
The "sins" portion comes about because we are part of a civilization for which singing is certainly viewed with suspicion. If you were to walk down the street singing, you would be judged insane, drunk or exhibitionist. In other words, singing in most first world countries (except Italy) is just not done. Classical singers are mocked "the fat woman" and except for the Pavorottis of the world, derided.
The word "other" in the radio program title refers to my present belief that I need to offer art song in the context of other music of the composer or period, thus providing context. Almost all art song composers were prolific in many genres and these non-art song examples of their work can allow the listener to enjoy art song more and appreciate the whole body of compositions in which a serious composer finds expression. It is a fun challenge for me to find non-art song that works between the repetitions of a song. This music shouldn't be jarringly different but rather act as an intermezzo or interlude.
Fitting all the words of Singing and other Sins together should provide a bit of fun, something like the book title from a few years ago: "Men, Women, and Tenors."