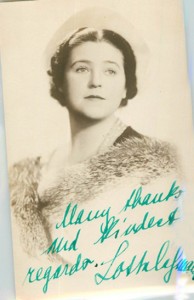 Lotte Lehmann was a talented singer, teacher, poet, painter, and writer, so it should come as no shock that she would be good at reading poetry. On this page I'll endeavor to supply samples of Lehmann reading both her own and others' poetry. If you go to the Winterreise page, you'll hear her read Müller's poetry which Schubert set.
Ich lebe mein Leben in wachsenden Ringen,
die sich über die Dinge ziehn.
Ich werde den letzten vielleicht nicht vollbringen,
aber versuchen will ich ihn.
Ich kreise um Gott, um den uralten Turm,
und ich kreise jahrtausendelang;
und ich weiß noch nicht: bin ich ein Falke, ein Sturm
oder ein großer Gesang.
I live my life in growing
spirals,
that move over the things.
I may never achieve
the last one,
but I'll try.
I circle around God, around the ancient tower
and I circle for thousands of years;
and still I don't know: am I a
falcon, a storm
or a great song.
Gausmann Interview in which LL reads her poem Let's have the chance to hear Lotte Lehmann read her own poem, on a radio interview program.
Certainly Goethe's most famous poem is Wanderers Nachtlied (Lass o Welt) and Lehmann's reading finds the emotional core of the poem. Lass o Welt